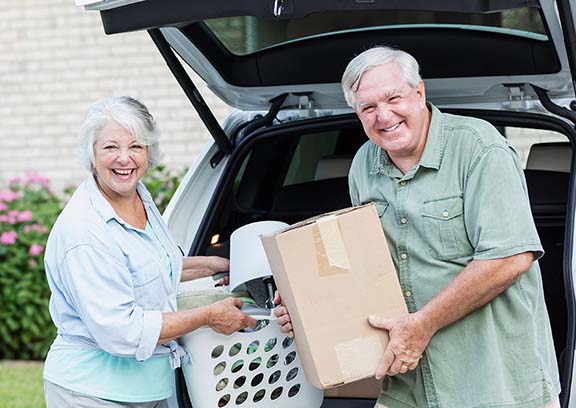 Why Spring Is the Perfect Time to Declutter and Downsize
Spring is on its way and with it comes the perfect time for a fresh start. From opening our windows to let fresh air in to the warm afternoon sun and the joy of spring cleaning, there is so much to look forward to as the season changes! There's just something about the beauty and brightness of spring that brings the desire for something new and a fresh start! This is often why many seniors choose spring as the best time to declutter, downsize and make more room for the things they love most.
"With the dreariness of winter finally leaving and the hope of warmer weather and outdoor fun returning, many seniors are energized and ready to get their home into top shape so they can simply enjoy everything each day has to offer them," says Beth Ann Burns, Director of Community Relations at Artisan at Hudson, a retirement living community located in Hudson, Massachusetts. "While this is great for them in the short-term, it's also a smart thing to do for their long-term plans! Downsizing and decluttering can make it so much simpler for seniors to make the move to a community setting when they're ready. They won't need to worry about downsizing in bad weather, spending a lot of time cleaning and decluttering their home and, even better, worrying about their family and friends needing to do it for them in case of an emergency. It's no wonder so many seniors make use of this burst of energy and downsize during the spring!" 
Why You Should Declutter and Downsize in the Spring
If you're considering whether or not to downsize during your spring cleaning routine, or if you think a move to a senior living community may be in your future, consider some of these reasons why spring is the perfect time to do so!
● It's nicer out. There is nothing worse than downsizing in the snow! From dreary, bad weather and safety hazards to darkness coming sooner and lack of energy, winter can make downsizing feel like it's taking forever! Instead, take advantage of the good weather that spring provides, along with the extra sun, turn on some good music and get to organizing.
● You can have a yard sale. Have items you don't need or want anymore? Consider having a yard sale where you can put out the items you don't want for others who may love them and enjoy a little extra cash in your pocket! Then, save that money or splurge on something new and exciting for your space!
● It's a nice, low-impact workout. Going from room to room, bending, standing, carrying items. Not only does this raise your heart rate, but it can help give you a little extra health boost! Even better, you won't sweat as much as you would in the summertime!
● You could make it a party. Have friends and family come over and harness some of their extra energy! Have some iced tea, go through your things, reminisce over all your old memories and make some new ones as you make room for more exciting things to come!
● It'll be easier to throw out things that no longer bring you joy! There seems to come an attitude of freedom that comes with spring that can potentially make it easier for you to say goodbye to things that simply don't matter. Have items you haven't touched in months? See you later! Have five of the same types of pots and pans? Donate them! Have no need for those extra blankets? Give them to a pet shelter! There are so many ways your unwanted items can bring joy to others, even if they no longer bring joy to you!
If you're considering downsizing, contact the team at Artisan at Hudson today! We would be happy to provide you with our tips and tricks, show you how downsizing can be freeing and share the benefits of how downsizing helped our residents discover the lifestyle they fell in love with!
Discover more about luxury retirement living and how Artisan at Hudson can help you experience senior living perfected! Call (978) 212-9353 for information today!
Discover an Artfully Crafted Lifestyle
Located in Hudson, Massachusetts, Artisan at Hudson offers distinctive, rental senior living designed to give residents everything they want and need. With the convenience of transportation, multiple dining venues, a fitness center, underground parking and several supportive lifestyles on campus, combined with our empowering programs to enhance well-being and so much more, we can provide you with an artfully crafted retirement lifestyle.
Artisan at Hudson is a community where residents can create their own journey, with more opportunities, more convenience, more choices and even more wow, all in a beautiful, modern setting equipped with everything you need to live well. Think a variety of open floor plans, upgraded appliances and refined finishes along with carefree and worry-free living. It's all within your reach.