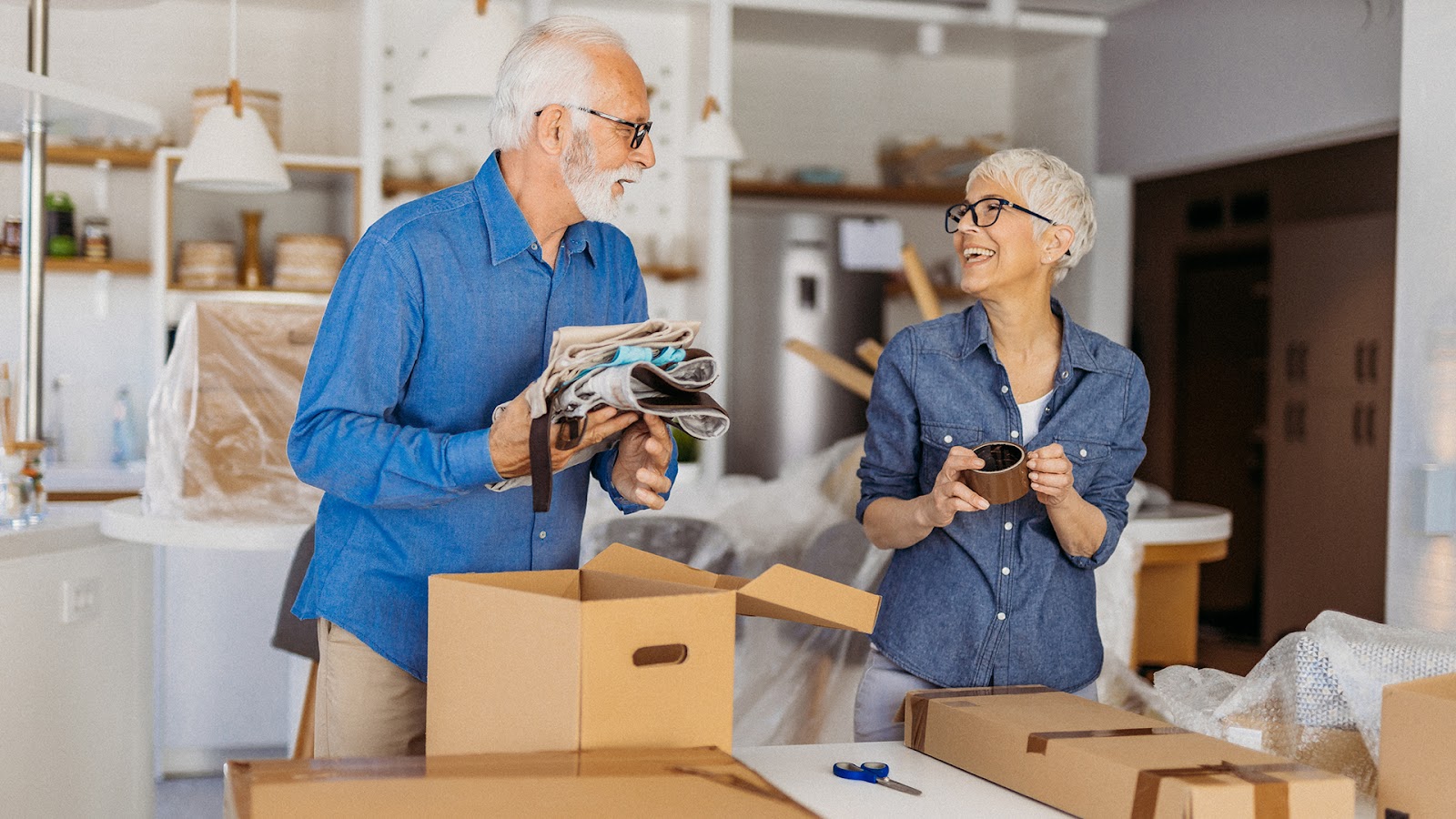 The Essential Downsizing Checklist for Seniors
When you're moving to a senior living community, you're looking forward to a maintenance-free life and refreshing new space where you can enjoy all the amenities, services and benefits of the community.
As you're preparing what to bring to your new, exciting living space, you'll want it to be organized, free of clutter, and decorated so you feel right at home.
"Artisan at Hudson offers a downsizing quiz to see if it's the right time to downsize," says Ashley Gaumond, Director of Sales and Marketing at Artisan at Hudson, a senior living community in Massachusetts. "When it is time for downsizing, we find that breaking down the process into a checklist helps the process run more smoothly." 
1. Make a Plan
As you're developing a plan to move to your new apartment, it's important to establish a timeline for the process. Figure out when you'd like to have certain rooms packed, how you're going to manage your belongings, and what day you're moving in.
2. Have Helpers
Moving is always easier when you have help. Your family members and friends can help you with the organization process and packing up boxes.
You may also want to consider using a downsizing company to prepare for your move. They can provide professional suggestions and tips for how you can consolidate items or items that you should definitely bring to your new apartment.
For move-in day, you could look into moving companies or other professional resources who can help you.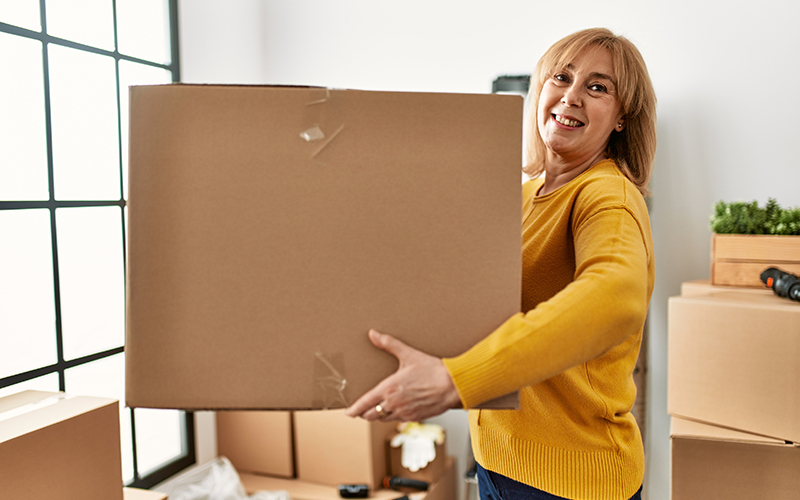 3. Start Sooner Rather Than Later
When you know you're moving to a senior living community, getting started on your move as soon as possible will allow you to make this process gradual rather than rushed at the last minute.
You can take your time in deciding what to do with certain items, stay as organized as possible, and you won't have to feel anxious about your move-in date. Instead you'll have plenty of time to pack and look forward to the next exciting chapter of your life.
4. Store Important Items in a Safe Place
As you're going through your belongings for the move, you should keep your important documents and items aside in a safe place. When you're putting things in boxes and shuffling things around, it's easy to misplace these items. Keeping them in a safe or safe deposit box will give you peace of mind that they're in a secure place, and you'll know where they are when you need them.
Some items you may want to consider storing include:

Birth Certificate
License
Insurance Information
Keys
Medication
Legal Documents
Checkbook
Credit Card
Cellphone
Address Book
Valuables
With these items put in a place that's accessible and secure, you can move forward with the downsizing process.
5. Sort Your Items
Going through your items can be an emotional process. Taking time to reminisce over your belongings can bring back good memories and help you decide what to do with them.
You may find that some items have much sentimental value, and you'd like to display them in your apartment. You could donate other pieces to your family members if they want them.
If you're on the fence about whether you should keep something or give it away, think about the one-year rule. Have you used this item or thought about it in the last year? If the answer is yes, then you should probably keep it.
If the answer is no, think about whether the item brings you joy. If it doesn't, this would be a good item to give away to a family member or donate.
You'll be surprised at how quickly this process can go once you start seeing the benefits of decluttering your life. These mental health benefits can include improved mood, reduced anxiety, and a boost in your energy level. 
6. Decide What Can You Consolidate, Donate, or Digitize
As you're sorting your things, you may find that you have duplicate items or things you don't need or want. Those are easy to put in a donation pile, sell in a yard sale, or throw away.
If you have a large number of sentimental items, like photographs, look into digitizing them so you can bring one item instead of several heavy photo albums.
The best part of digital photo albums is that your family can upload pictures whenever they want, which will help you feel connected and up to date on what everyone is doing. 
7. Organize Boxes
When you take the time to organize your moving boxes, your future self will definitely thank you. Try organizing by room and clearly labeling the box. This way, you'll know when you're opening your kitchen boxes that everything will be where it's supposed to be.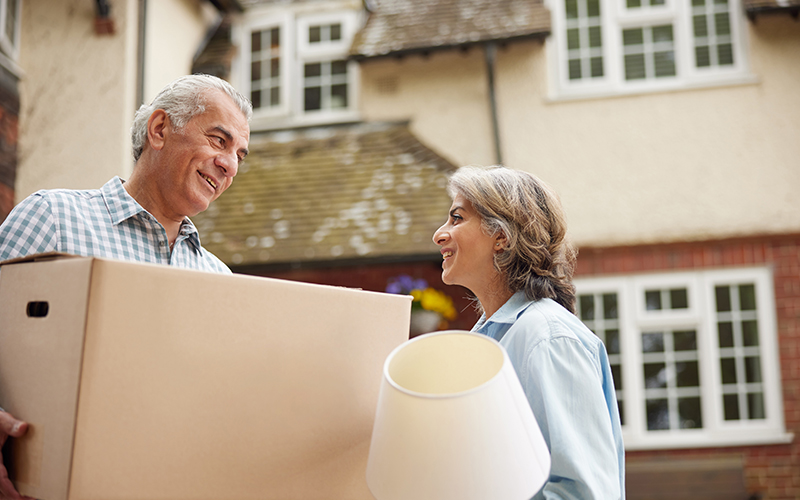 8. Keep New Layout in Mind
As you're deciding what pieces of furniture or larger items to keep or donate, you'll want to keep the square footage and layout of your new apartment in mind. It may even help to use tape to map out the room's dimensions so you can get a better idea of the space you're working with.
You can play with how you could orient pieces of furniture and start to formulate a plan for how you'd like to organize your apartment. This can help you get a feel for what your apartment will look like and also help you identify areas where you may need more storage options, which you can solve ahead of time.
9. Make a Move-In Day Plan
While you've had a whole downsizing plan that ends in your move, it's also a good idea to have a plan on the day of the move. Pack a separate bag with pajamas, an extra set of clothes, and essentials like a toothbrush, medication, and anything else you want to instantly access.
Know who is going to help you, whether that's a moving company or family and friends, and arrange transportation for how you're getting to your new apartment. This can give you a better idea of what to expect for an exciting yet busy day.
10. Stay Connected
Tablets and smartphones give you access to contact your loved ones whenever you want. Whether it's a phone call, text, or video chat – you can reach anyone at any time.
You can also plan ahead for a visit – after a couple of weeks in your community, you'll know all the ins and outs that you can show your family members.
11. Explore Your New Neighborhood
Take an opportunity to walk around your new community to learn the layout and all the goings-on.
This can be a fun experience for you and your loved ones as you can see all the great things your community has to offer. You may also meet other residents while you're out and about and make new friends.
Taking the time to explore can give both you and your loved ones peace of mind that you're comfortable in your new apartment and community.
Rightsize Your Life at Artisan at Hudson
When you move to an apartment at Artisan at Hudson, you're not downsizing – you're rightsizing. You're bringing what you need and love to your apartment to make it your new home without adding clutter. 
Your apartment will be a clear and welcoming space for you to relax, unwind, and recharge for the next day's exciting social events and programming. Call us at (978) 254-7483 to learn more about senior living at Artisan at Hudson.