Distinctive Dining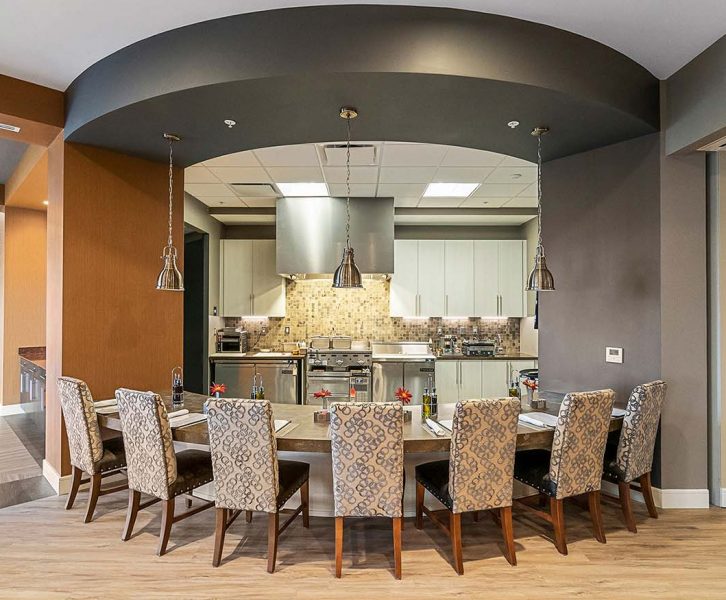 Good food is made even better when it's expertly prepared and enjoyed with family and friends. Echo Lake offers a flexible meal plan and several dining options throughout the day and evening to satisfy your appetite. Whether you're in the mood for a full-service dining experience or a casual bite to eat, you can count on seasonal and sophisticated meals built around a foundation of fresh, quality ingredients. No institutional meals here! Instead, you'll enjoy an innovative dining program built around the latest trends in nutrition and the culinary arts.
With Echo Lake dining, you have options.
Start the day with your coffee or tea at our café.
Relax and let us serve you lunch and dinner in our expansive main dining room, which features three distinctive settings and a terrace for meals, alfresco.
Join your friends in the rooftop pub, where a 16-foot wall slides open to an expansive terrace with breathtaking woodland views of Cedar Hollow Preserve. On a clear day, you can also see Philadelphia.
Host a special family dinner in one of our roomy gathering spaces.
Savor seasonal selections like BBQ baby back ribs or classics like center-cut filet mignon. Indulge in a chef's selection, such as braised leg of lamb with roasted red potatoes or relish comfort food favorites including homemade mac and cheese. (We just ask that you promise not to hold it against us if the delicious, well-prepared foods cause you to gain the "freshman 15.") Take a look at this sample menu. We'll save a seat at the table for you!
Ready to learn more about living to the power of you?