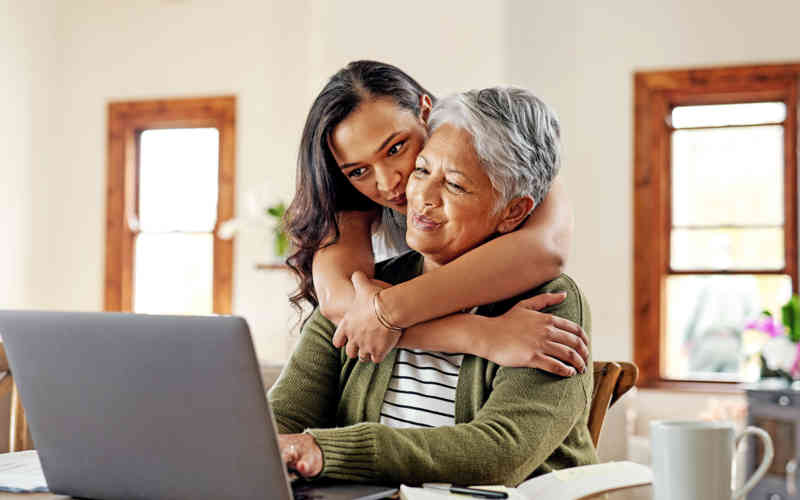 "What I'm Thankful For"
This holiday season, we asked residents of Plush Mills, a senior community in Wallingford, what they were thankful for. As you might imagine, the first response of many was "my family." But, further conversation often revealed touching — sometimes funny, sometimes melancholy — memories of growing up and adulthood.
Carmen Martella (87 years old): We're very thankful for our family. Joan and I have been married for 66 years, and marrying her was the greatest thing. We especially enjoy Thanksgiving, when our 5 children, 14 grandchildren and 14 great grandchildren visit us. It's always a wonderful time. And I'm very glad that two of my sons and two of my grandsons took over the electrical contracting business that I operated for 60 years. I've really been blessed.
Joan Martella (86): Growing up, I wanted three things: to get married, to be a nurse and be a nun. And, I got to be all three. Carmen and I got married when I was 20, and we had seven children in nine years. Imagine having all those teenagers at one time. Then, at the age of 38, I decided to go back to school. I went to a community college, got an associate degree in applied science and became a registered nurse. Finally, I became a lay Carmelite in 1983. Despite the fact that two of our children died, our daughter Maureen passed away at age 44 and our son Carmen, Jr. passed away at age 64 – God's been very good to us. We've had blessing after blessing.
Bernie McMenamin (88): I'm thankful to be here – and I don't know why I've lived longer than anyone in my family. It is possible that my husband Frank is looking down from heaven and saying, "Leave her down there a while. It's quieter up here without her." I'll discuss that with him when I join him. I'm grateful for my two daughters who live close by and my son in Florida. My husband and I lived in Norristown, Pa., and we retired in Somers Point, N.J. We moved to Florida in the fall of 2012 after our son John passed away, and we weren't sure it was the right move for us. But, I joined a Bible study group. A woman in Melbourne, Fla., leads an hour-long study by phone with me and other women, including one in Georgia and one in North Carolina. I've become a believer, and everyone has seen the difference in me. I'm so much nicer now!
Letizia (Tish) Mill (88): There are many, many things I'm thankful for. Family most of all. And I'm thankful to live in this community. The people are friendly here, and I like making new friends. My daughter lives in Brookhaven, and I moved here when I was being treated for cancer. Actually, during my treatment, the hospital gave me an accidental opioid overdose. I had to be revived; so I'm thankful to be alive. Now that I'm in the Philadelphia area, I get to see my 10 grandchildren and 7 great grandchildren more often. When I was growing up, one of the things I was most thankful for was living in a very friendly neighborhood in Allentown. Neighbors always helped one another. You could feel the love in the neighborhood. I was married to a wonderful man for 51 years, and we had four children, though one of them has passed away. Finally, I am grateful my parents came to America from Italy, that makes me especially proud when I pledge allegiance to our flag.
MaryAnn Murr (72): I'm thankful for the beautiful life I've had. I had wonderful parents; I couldn't have asked for better parents. Growing up, my family moved from Easton, Pa., to Havertown, Pa. where we lived with my uncle and aunt. They had a son, too, but not until they'd been married 15 years, so my sister and I were the only children in the house for a long time. We were little "queens." The adults fussed over us like crazy. We never wanted for anything, and sometimes I wondered, "Where did all the money come from to buy us things?" I remember on Thanksgiving my father and uncle took us downtown for the parade and loaded us up with hot chocolate. Then we'd go home and the house would be filled with the aroma of all kinds of foods – from soup to nuts. We'd eat from 12:30 to 5:00; my mother and aunt were fantastic cooks. I had a wonderful marriage, too, to my husband of 48 years.
Happy Holidays from the residents of Plush Mills.