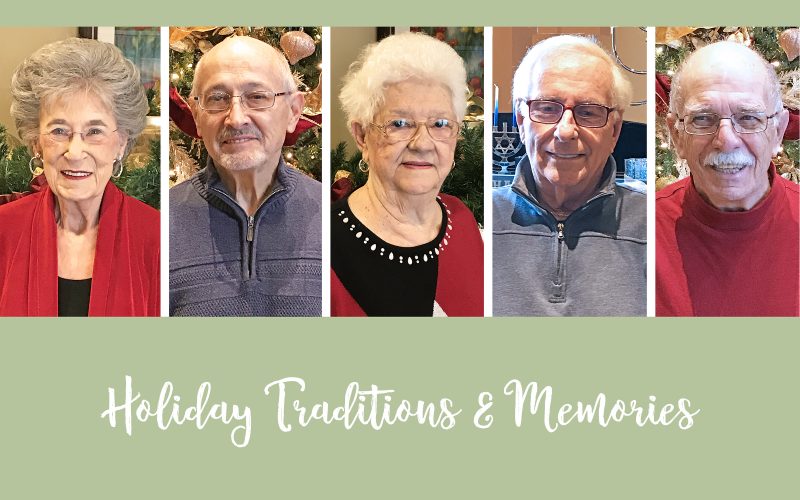 What are your favorite holiday memories?
Roving reporter, David Culver asked Plush Mills residents to share their favorite holiday traditions and memories. Their answers appeared in the December 24th issue of the Delaware County Times.
Joanne Clelan – I grew up in Bird-in-Hand in Lancaster County. When I was a child, every year we'd pick out a Christmas tree, which would stay outside in the yard until December 24th. When Mom and Dad sent my brother and me upstairs to bed on Christmas Eve, there was nothing at all in the living room. When we came downstairs on Christmas morning, everything was there: the Christmas tree, the decorations, the train tracks, the toys – the works. It was like a Winter Wonderland. I appreciate now that my parents didn't get any sleep that night. Christmas isn't Christmas without music. My family lived right next door to the Bird-in-Hand Methodist Church, and I played piano for Sunday school when I was growing up. Eventually, I became the organist for the church and was participating in every Sunday service and all special services, including Christmas Eve. We had a choir of about 15 members, and one of my daughters sang in the choir. My favorite Christmas hymns were Oh Holy Night and Silent Night, when they'd dim the lights at the end of the service.
William Eisle – My favorite holiday tradition was shopping for my wife on Christmas Eve. I liked the hustle and bustle and excitement of wondering whether I was going to find what I was looking for. I'd buy her a lot of clothes. But, one Christmas, she tried on the clothes and nothing fit – and she didn't like any of it. So, we took it all back. From then on, I'd break up the money into smaller bills, and then hide them around the house – each with a note directing her to the next one. My most memorable Christmas was in 1967 or 1968. On Christmas Eve, it was snowing where we lived in Drexel Hill, and we were getting ready for all our family to come over all day long on Christmas. It started snowing around 3:00 in the afternoon, and it turned into a blizzard. All of a sudden, we didn't have to worry about going anywhere or preparing for anyone. Everyone was snowed in. Instead, all our neighbors – our houses were close together – just walked from house to house to house to visit or just say "Merry Christmas." We didn't have to worry about having enough food or drink. It didn't matter. It was just joyful.
Gina Falgiatore – Being Italian and growing up in South Philadelphia, our holiday was all about food. Food, food, food – and family. Our family of 5 would celebrate with the family of nine of a friend of my dad's who was from Italy. On Christmas Eve, we'd have the Feast of the Seven Fishes. On Christmas morning, Mom would set out drinks and cookies, and our neighbors would come by and say, "Merry Christmas" – and we'd offer them a drink. And if we were lucky, our visitors would give us a quarter. Christmas Day wasn't all about gifts back then. I'd get a toy, one piece of clothing and my stocking. And, we were happy.
The eating would continue with Christmas dinner: antipasto, soup, pasta, beef and veal roasts, potatoes, batter-fried vegetables and salad. After dinner, we cleared the table and had roasted chestnuts, fresh fruits, coffee and anisette for the adults, and the kids were treated to sodas. And, we had cannoli and Mom's fruitcake. Afterwards, my brother, who was musical, led us in singing Christmas carols in English and Italian.
The next day, we would celebrate all over again with leftovers. It was really a three-day celebration. And, then we'd spend New Year's Eve and New Year's Day with my dad's friend's family – all 14 of us together again. It was lovely.
Marvin Freed – My wife, Carol, and I have three children. Two live with their families in Blue Bell and one in Baltimore. Every year around the 27th, 28th or 29th, we all meet in Baltimore for a day to celebrate Hanukkah and Christmas by exchanging gifts and eating together. Six grandchildren and 3 1/3 great-grandchildren (one of our grandchildren is expecting a child in July) come from Pennsylvania and Saratoga Springs, N.Y., and it's usually the one time we can all get together as a family.
One of my favorite holiday memories was last year's gathering in Baltimore, because we also celebrated Carol's and my 60th wedding anniversary. We got married on December 29, 1956 – less than two months after I was discharged from the Army. We met in 1954 when we went on a blind date to the Penn – Penn State football game. One week later, I entered the Army. I was stationed in Fort Knox, Ky., and Carol and I began corresponding by letter. I would get a two-day pass to go home once a month, so I'd drive from Kentucky to Pennsylvania. That got pretty tiring after a while, so I started flying from Kentucky to Pennsylvania on Friday and flying back on Sunday. When I was discharged on November 5, I returned to Pennsylvania, and Carol's parents had made all the arrangements for us to get married at Green Valley Country Club in Lafayette Hill. That was a pretty special holiday memory, too.
Tom Fileccia – When my kids were younger, I enjoyed cooking, baking cut-out cookies and pizzelles, stringing popcorn and cranberries. And, cutting our own Christmas tree was a big tradition. But, as our kids grew up, I thought more about the Holy Day aspect of Christmas. I guess I'm kind of a "Bah, humbug" guy now. The Christmas Eve mass was very special for my wife and me. It was a time when we could see all our friends and neighbors. And, at the end of the service, several of the older parishioners would meet in the sacristy in the back of the church. One of the men would bring a bottle of limoncello. We'd get out those little medicine cups, fill them up and toast each other. We all looked forward to that.
One of my favorite memories from when our kids were younger was when we gave our 4-year old son a toy rifle and some boxing gloves. He put on the gloves and had a good time boxing with me. Then he picked up the rifle with the boxing gloves still on. Naturally, he couldn't pull the trigger – and he started crying. So, I took one of the gloves off so he could pull the trigger.
(Photo Credit: David Culver (L-R) Joanne Clelean, William Eisle, Gina Falgiatore, Marvin Freed, Tom Fileccia)