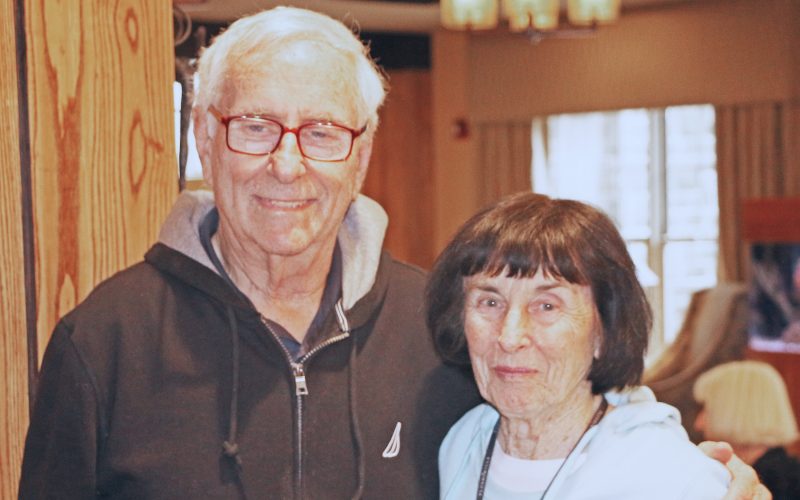 Plush Mills Veteran's "Experience of a Lifetime"
Plush Mills veteran Marvin Freed enjoyed the experience of a lifetime last month. During the summer, Marvin, a veteran of World War II, filled out an application for the Honor Flight Network. The Network is a nonprofit organization created to honor America's veterans for their sacrifices by transporting them to Washington, D.C., to visit the memorials that honor their service. Little did Marvin know when he got the phone call telling him his application was accepted that his trip would be much more than a 250-mile roundtrip to our nation's capital.
Marvin's experience started around 6:00 a.m. on an October weekday morning when he and his daughter Sharon got in their car and drove to the Flourtown Country Club in Springfield Township, Montgomery County. He and 47 other veterans met there and boarded two buses. By 7:00 they were on their way to Washington. Each veteran had a "buddy" to help guide them through their busy, special day. The veterans were fed a light breakfast and received a commemorative t-shirt and hat. Philadelphia Police escorted them to the Delaware state line, where Delaware Officers escorted them to the Maryland border. Maryland State Police escorted them the rest of the way into Washington. "It was like a presidential motorcade," said Marvin.
Once in Washington, the group joined veterans from other states – perhaps 200-300 veterans in all – and visited the Tomb of the Unknown Soldier, the World War II and Korean War memorials and the Washington Monument. By 3:30, the veterans were back in their buses, headed back to Flourtown or other originating locations. As Marvin's bus reached each state border, the states' police officers again greeted and escorted the veterans just as they had on the trip down to Washington. Upon entering Pennsylvania, 50+ motorcycles escorted them into the Philadelphia area. A portion of I-95 was closed for a time to allow the veterans' expeditious passage while fire and police officials saluted them from highway overpasses.
The caravan arrived back at the Flourtown Country Club at 6:00. The veterans were greeted by a crowd of more than 100, including Boy and Girl Scouts. Honor Flight Network representatives gave each veteran a photograph of the 48 taken of them earlier in the day at the Washington Monument. Then, according to Marvin, "We all pledged allegiance to the flag, sang 'God Bless America' and had a great dinner.
"It was one of most moving and memorable experiences of my life," Marvin said. "Every veteran should have a day like that."