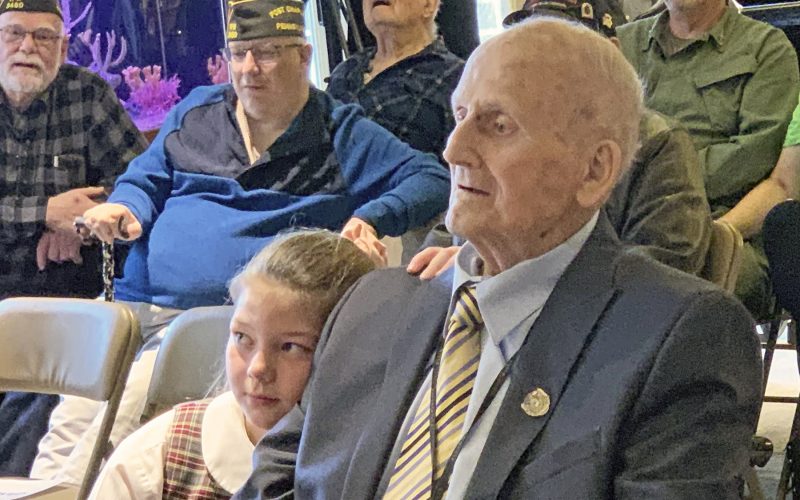 Plush Mills Resident, Jack Klotz Honored
Family, friends, staff and guests gathered yesterday to honor Plush Mills resident Jack Klotz in a program organized by Compassus Hospice Veteran Liaison Linda Simon.
A native son of Chester, Jack graduated from Pennsylvania Military College (now Widener University) after distinguishing himself on the football team. One of the school's top offensive tackles, he helped the 1954 team achieve the program's first undefeated season since 1888. Klotz earned a combined 12 letters in football, track & field, and basketball. After graduation, Jack served in the Marine Corps. Members of local veterans groups were on hand to acknowledge his service. Following his years in the Marines, Jack was drafted by the Los Angeles Rams at the age of 27. He went on to play for the New York Titans, the New York Jets, and the Houston Oilers in 1965.
Jack returned to Chester after leaving the NFL and joined CityTeam as a development officer. He later transitioned to supporting men in the alcohol and drug recovery program. Jack considers his time at CityTeam as the most rewarding experience of his life. Jack's imposing 6'4″ frame and experience as a tackle made him an excellent choice for a bodyguard and he had the honor of serving in that role for Senator Bobby Kennedy, Mother Teresa, and Pope John Paul II during their visits to the area.
Eagles radio announcer Merrill Reese sent a special audio message for Jack, which Linda played during the ceremony. Former Philadelphia Eagles and Kansas City Chiefs player Gerry Feehery also spoke. He met Jack when he was a student at Cardinal O'Hara High School. Jack followed his career and also that of his son, who is a Marine. Widener Track and Field Coach Vince Touey spoke of Klotz's faithfulness to the city of Chester, St. Katherine Drexel parish, and the college. Linda Simon presented Klotz and all of the residents of Plush Mills who served in the military with a challenge coin and a certificate.
Jack was humbled by the recognition and was quick to say that "what I did wasn't any different than what most of the guys I grew up with did." Jack's friends and family attending the ceremony included his children: Mary Catherine Lain, Karen Klotz, John Klotz, Jr., and three granddaughters.