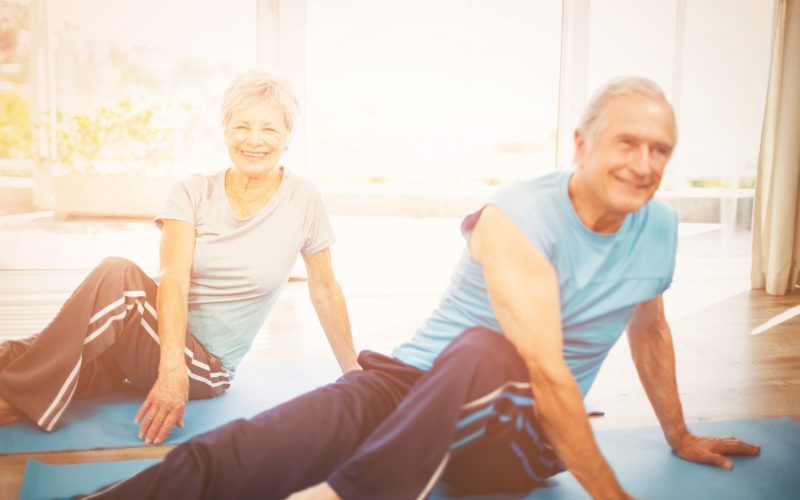 Enjoy Better Mobility For Healthy Aging
Mobility limitations may be a litmus test for healthy aging. That's the finding of a recent study conducted by the University of Alabama at Birmingham. The study also suggests that primary care physicians should take a more assertive role in ascertaining the mobility of their older patients.

But, limitations in mobility do not need to be inevitable for everyone. There is a significant amount of supporting evidence indicating that exercise could be the key to dramatically slowing or preventing the loss of muscle mass, strength and mobility. Below are some strategies that older adults may implement to maintain or improve physical mobility, enabling them to stay independent.

Yoga and Stretching

Yoga is phenomenal for improving balance and stability, and has also been shown to reduce blood pressure, assist with weight loss, and improve respiration, mood and concentration. Additionally, any type of stretching exercise can be incredibly helpful for people who suffer from conditions like arthritis or osteoarthritis, because stretching helps strengthen and release tight joints and muscles. As with any exercise program, it's best to seek the advice of a qualified instructor with experience teaching older students.

Strength Training

Strength training may conjure up images of muscle-bound people lifting very heavy weights, but actually this activity can be done at many levels. Gentle, appropriate, targeted strength training can build muscle mass and increase bone density, both of which may help prevent injury or even shorten injury recovery time. Working closely with a personal trainer will help you get the most out of your strength training practice. Personal trainers will often also focus on exercises geared toward improving balance and range of motion.

Swimming and Water Aerobics

Water exercise, such as swimming or water aerobics, can be a great alternative for older adults, because it imparts minimal wear and tear on the muscles and joints. Both swimming and water aerobics provide the benefits of cardiovascular activity while minimizing injury risks that come with more high-impact forms of cardio exercise. Water exercise strengthens arms, legs and core muscles while keeping joints protected.

Tai Chi

Tai Chi is a type of non-competitive martial art that emphasizes meditation and gentle physical movements. Just 20 minutes daily of this low-impact activity can reduce stress and blood pressure, while strengthening lower body muscles for improved balance and mobility. It also targets stability in the knees and ankles, and can help reduce pain from arthritis or related conditions.

Additional Tips For Exercising
Get good shoes. A pair of comfortable, supportive walking or cross-training shoes can make the difference between a helpful workout and a blister, or worse an injury. Also, with the right shoe for your foot shape and gait, you'll have better balance and will get more out of your exercise.
Stay hydrated. Staying hydrated is important for anyone at any phase in an exercise program, but especially so for older adults. Additional liquids can help flush toxins out of the body and keep muscles lubricated.
Make it social. Working out with friends or family members is fun and can help you stay motivated. Exercising with other people can help you stay consistent with your program, and the social aspect can help combat depression and anxiety. Senior living communities offer a wide variety of exercise programs, taking the guesswork out of how to stay mobile and fit in a sensible way. Plush Mills Senior Living offers a variety of fun options, such as line dancing, a Pétanque court, Move For Life! signature exercise classes, drumming, and much more. Contact us to learn more about our exercise programs and activities or to schedule a tour.
Take it outside. Whether you like to go walking or are interested in yoga, taking your routine outside in the sunshine can be a big mood-booster and can also be extremely motivating. Vitamin D is beneficial for bones, muscles and joints. Just be sure to take a sun hat, sunscreen, and water.
Talk to your doctor. It's always advisable to talk with your doctor before starting any exercise program. Additionally, your doctor may be able to offer suggestions about what types of options may be best for your particular situation.

Just Keep Moving

In terms of mobility and aging, the key is to "just to keep moving". Whether you like playing pickleball, going for a swim, walking or doing daily stretches, your chances of maintaining mobility throughout your lifetime will increase if you stay active. Additionally, increasing your mobility may even lengthen your lifespan. Plush Mills endorses exercise as a way of staying healthy and fit, and tempts residents with a wide variety of exercise options and neighbors to provide that healthy dose of peer pressure that is so helpful in initiating and sticking with a fitness program.