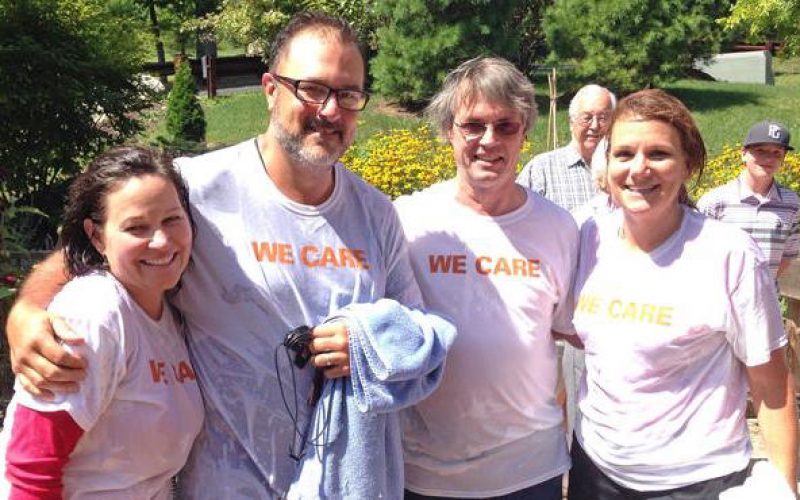 Chilly for a Good Cause
We filled our ice bucket with donations from our residents and staff and filled some larger buckets with ice when we completed the challenge made by our sister community, The Maples of Towson in Maryland.
Program Director Stacy Clements threw down our challenge to Senior Helpers, Fox Rehabilitation, and South Media Fire Company, before our volunteers got an ice-cold shower.
Take a look at the video on You Tube.
The 'soakees' were, from left, Tina Wilhelmsen, our Associate Director, Don Stauffer, Building Engineer, Frank DeBenedetto, Dining Services Director, and Plush Mills' President, Kelly Andress. The 'soakers' were Marybeth Cannon, Marketing, residents Beverly Grant and Ken Wright, Chef John Wickstrum, resident Bob Flynn, and Joan Sobel, Marketing. Kelly's son, Charlie snuck in at the end with an extra bucket of water for mom.
Resident Ann Gallo helped us all remember the goal of the ice bucket challenge when she expressed her gratitude for her neighbors' generosity. Ann lost her husband to ALS after a long and arduous battle. She's been gratified by the focus of attention and outpouring of donations aimed at striking out ALS.
Keep your ice cubes in your tea and make a donation here: www.alsa.org
UPDATE: Fox Rehab and Senior Helpers have completed their challenges!