Memory Care at The 501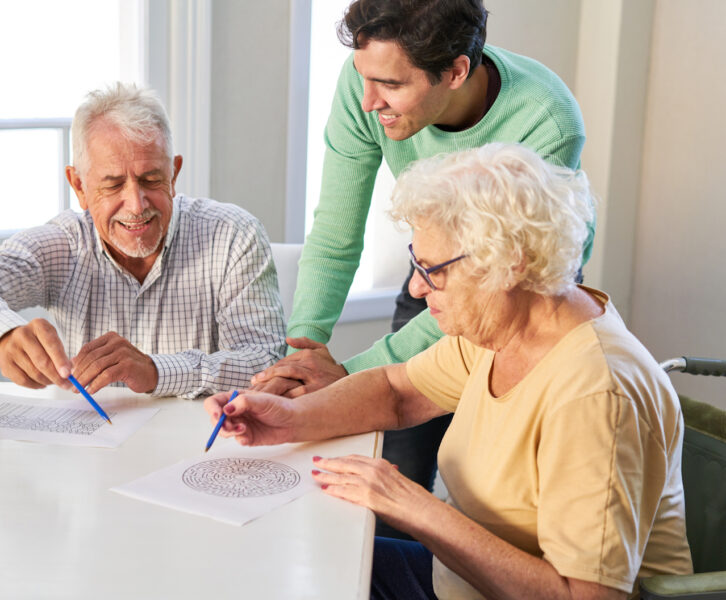 A diagnosis of Alzheimer's or another type of dementia can be a life-changing event for both those with the disease and those close to them. We are here to help.
Interested in taking a tour and learning more about how Memory Care at The 501 can benefit your loved one? Jump to the form here.
Memory Care that meets you where you are.
At The 501, we place each Memory Care resident's individual needs at the center of everything we do. Our Connections neighborhood offers an innovative philosophy called Positive Approach to Care®, developed by internationally acclaimed dementia care expert Teepa Snow, to enrich Memory Care residents' well-being by focusing on their legacy through team member and family engagement. Our goal is for residents to live a dignified, satisfying and productive life. Each resident will follow their personal journey with us. We recognize that and create a care plan specific to their needs.
Our thoughtfully designed spaces feature beautiful apartments that are safe and secure. They minimize confusion and anxiety, and maximize awareness, socialization and freedom of movement to encourage independence. And a supportive staff is always there, should any need arise.
Services include:
Personalized wellness plans and care coordination
Assistance with the activities of daily living, such as bathing and dressing
Around-the-clock support
24-hour nurse-supervised health monitoring
Medication management
Engaging programs that offer abundant opportunities to learn and stay active
Social, educational and spiritual programs and community engagement
Gourmet dining—culinary staff creates and oversees a savory and nutritious menu, using the freshest seasonal ingredients
Transportation to appointments, local shops and attractions, as well as other convenient services
Personal laundry and linen service as well as housekeeping
Spacious common areas for family gatherings
Scheduled transportation and trips
Our Approach
The 501 at Mattison Estate takes the Positive Approach to Care® developed by internationally acclaimed dementia care expert Teepa Snow. This approach recognizes a person's changing abilities, so caretakers can adjust expectations and deliver the most appropriate care at any given moment.
Our team uses adaptive scheduling to make sure residents can engage in activities that match their needs and interests, such as:
Core strength, balance and mobility exercises
Cultural and community engagement
Award-winning gaming and activity solution, Obie. A wonderful way to encourage and improve mobility with active games. Combination of cognitive activity, memory challenges and entertainment. Social interactions to reconnect with family and friends and create social experiences.
Family events and intergenerational connectivity
Individualized life skills
Social interactions with large- and small-group activities
Spiritual programs
Want to learn more? Give us a call at 215-461-4880 or fill out the form below:
Positive Approach to Care is a registered trademark of Teepa Snow.