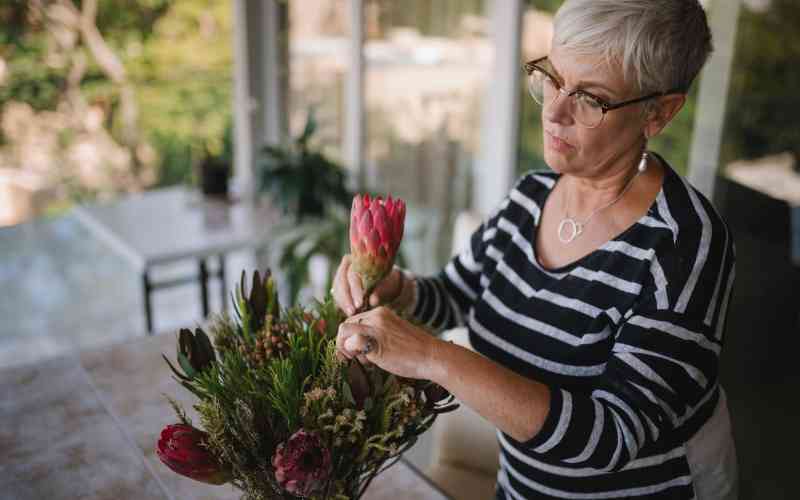 The Benefits Of Flower Arranging For Seniors
Throughout the year, indoor plants and vases filled with flowers can be a real mood lifter – adding color and sweet fragrance to our environment. During the spring and summer months, the availability of local fresh cut flowers and greens make flower arranging a very accessible hobby. In addition to beautifying our surroundings, flower arranging encourages improved manual dexterity, promotes sensory stimulation and can also reduce stress.
Fosters Inclusivity
Flower arranging is an activity that can be enjoyed by people of all ages, abilities and skill levels. Floral arrangements can be created while standing, sitting at a table, seated in a wheelchair and even while propped up in bed. It's also an activity that can span generations, with grandchildren or students working alongside a senior to create fabulous floral displays together.
Improves Manual Dexterity
Fine motor skills tend to deteriorate with age as joint stiffness or swelling from conditions like arthritis attack the hands, causing fingers to become more rigid and less flexible. Cutting and arranging flowers can give fingers, thumbs and hands a gentle "workout". Over time, flower arranging can also promote muscle memory, which can be useful for improving the body-mind connection.
Boosts Mood and Happiness
Arranging and gifting flowers can be a means for promoting well-being. A behavioral study conducted by Rutgers University showed that over a 10-month period spending additional time around flowers was a natural and healthy way to boost mood and combat depression. The study found that people of all ages were excited and happy to receive flowers and that participants reported higher levels of life satisfaction and lower levels of anxiety after receiving flowers as a gift.
Promotes Socialization
Flower arranging is an easy activity to do with a class or group or even with just one friend. Any hobby that encourages any degree of socialization can be beneficial for reducing the feelings of loneliness and isolation that many seniors experience. Many flowers have symbolic meanings, and this can be a fun component to incorporate into a flower arranging session. Here are the meanings of some common flowers:
Chrysanthemums – joy and long life
Daisies – new beginnings
Delphinium – vivacity
Gerbera Daisies – cheerfulness
Heather – good luck
Hyacinth – playfulness
Iris – wisdom
Snapdragons – graciousness
Sunflowers – adoration
Sweet Peas – appreciation
Reduces Stress And Anxiety
Flowers stimulate the senses of smell, sight and touch and in doing so can also trigger memories, encourage reminiscing and reduce feelings of stress and anxiety. For these reasons, flower arranging is often a beneficial activity for individuals with Alzheimer's disease or other forms of dementia. Creating floral arrangements is a soothing activity that promotes feelings of calm and happiness.
Tips for Creating Floral Arrangements
Choose from a variety of vases. The containers don't need to be expensive, and they don't even need to be traditional. A colorful plastic water pitcher or a glass mason jar are examples of inexpensive and readily available options.
Select flowers with sturdy stems, such as zinnias, marigolds and cosmos. These types of flowers are often easier to maneuver for people with limited dexterity and will better tolerate numerous adjustments.
Before adding flowers and greens to a vase, spread everything out on a table so the choices are all visible, and use scissors to trim the stems to a variety of lengths.
At Daylesford Crossing we take a holistic approach to health and wellness. We believe that being part of a vibrant community and remaining active and connected are critical to aging well. Schedule a tour today to learn more about our various wellness and lifestyle programs.
To see more posts from Daylesford Crossing, click here.