SageLife Celebrates 5 Years as a 'Great Place to Work'!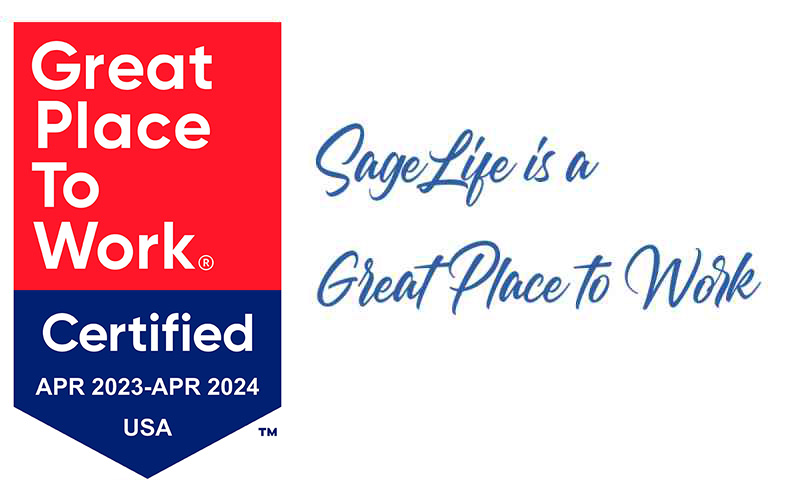 Philadelphia, PA (July 2023) – Great Place to Work Institute and its senior care partner Activated Insights have honored SageLife with certification as a Great Place to Work.
"At SageLife, we take pride in being recognized as a Great Place to Work for five consecutive years. Our commitment to providing avenues for growth, development, and success ensures that our team members are supported with the tools they need to thrive in their professional journeys. A happy and motivated team is the key to achieving remarkable results. That's why we go above and beyond to create an environment that fosters personal and professional growth, where each individual can reach their true potential," says Kelly Andress, Founder and President of SageLife.
SageLife provides a comprehensive range of employee benefits, including competitive pay rates, extensive benefits packages, tuition reimbursement, quarterly bonuses, and EAP Services. In addition, SageLife provides medical certification training, dementia training programs, and personalized development plans, to promote its employees' continuous growth and advancement.
The certification process involved surveying 100% of employees from across locations and evaluating more than 60 elements of team members' experience on the job. These included employee pride in the organization's community impact, the belief that their work makes a difference, and feeling their work has special meaning. Rankings are based on employees' experiences, no matter who they are or what they do.
"We applaud SageLife for seeking certification and publicly sharing its employees' feedback," said Dr. Jacquelyn Kung, of Great Place to Work's senior care partner Activated Insights. "These ratings measure its capacity to earn its own employees' trust and create a great workplace for high performance."
SageLife is a dynamic, mission-oriented company that designs, develops and operates senior living communities with the flexibility to innovate and adjust around residents as their desires and needs change. To learn more about SageLife please visit https://www.sagelife.com/.
About Activated Insights and Great Place to Work
Activated Insights is the senior care affiliate of Great Place to Work, the global authority on high-trust, high-performance workplace cultures. Through its aging services certification program, Activated Insights helps Great Place to Work recognize outstanding workplace cultures in the aging services industry and produce the annual Fortune "Best Workplaces for Aging Services™" as well as other Great Place to Work Best Workplaces lists for Millennials, Women, Diversity, Small & Medium Companies, and various regions. Through its employee engagement platform, Activated Insights helps clients create great workplaces that outpace peers on key business metrics like revenue growth, profitability, and retention.