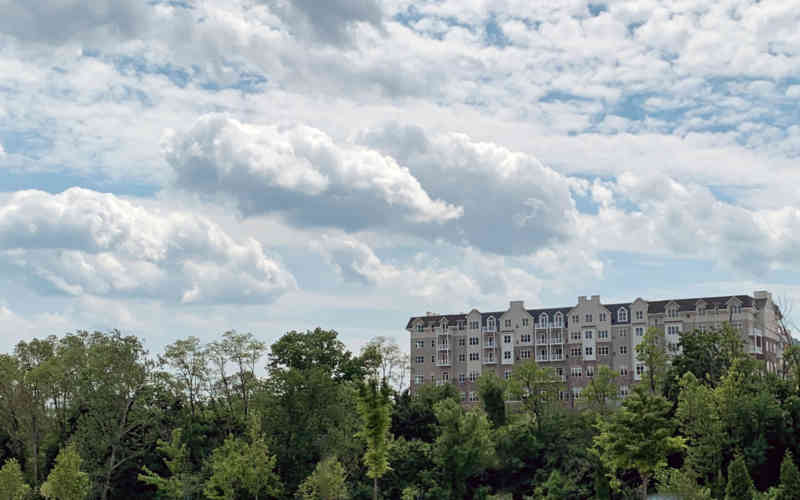 Tech Enhances Lifestyle at Echo Lake
In most senior communities, it is common to find a "technology room" or "Internet Café" where residents can check in on family and friends via Facebook, send email, or surf the net.
But, technology has become a much more integral part of senior living – both for the entertainment and well-being of residents, as well as for staff and management to maintain an efficient and safe living environment.
Echo Lake, SageLife's new retirement community in the Atwater live-work-play style community in Malvern, offers independent and supportive living and memory care. There, technology will impact nearly every aspect of residents' lives – from staying informed about local and world affairs, to selecting from a choice of meals and entertainment, to maintaining their health, safety and security.
The central source of information for residents will be provided by high-definition, television-like digital signs throughout the community, driven by a custom resident concierge system. The system is cloud-based resident information and engagement software that facilitates the timely, clear and consistent communication of announcements, dining menus, news, weather and more. The software is easily programmed by Echo Lake staff using a single point of data entry. And, because the software is cloud-based, approved staff can create content remotely from any computer.
Residents can use Amazon's Alexa virtual assistant, which is integrated with the resident information software, so they can get community news and updates via voice command.
In addition, through Echo Lake's point-of-sale system, residents can peruse the menu, make reservations at the community's fine or casual dining venues, and review their meal plans – or even reserve a hair salon appointment – via a resident portal. The portal is accessible via laptop or smart device (e.g., iPad, iPhone, Android).
Electronic health records (EHRs) are an important part today's healthcare environment. EHRs enable quick access to the records of residents in supportive living for more coordinated, efficient care. They also allow the secure sharing of electronic information with clinicians, helping providers more effectively treat patients, reduce medical errors and provide higher quality care. Echo Lake's EHR also improves supportive living resident care and helps with medication and nutrition management.
Residents also have access to a wireless call pendant, which connects residents with care no matter where they are on the campus. The pendants provide for greater mobility and freedom and increased resident quality of life.
To ensure the safety in the community's memory care unit, Echo Lake will employ a sophisticated system which protects residents from the dangers of wandering. It electronically matches resident bracelets and community access points to alert staff when a resident is at risk.
Lastly, Echo Lake's construction is built to International Building Code Type I and Type II standards, the highest standards for fire safety construction. In addition, the doors leading to each stairwell are equipped with magnets that keep them open. But, when the building's fire alarm sounds, the magnets release, closing, but not locking, the door, forming safety envelopes.
The oversize stairwell platforms measure 9 feet by 13 feet. The platforms and the two-hour-rated stairwell walls allow residents and staff to "rescue in place." And, a rescue button just inside each stairwell door sends a signal to a fire alarm panel, alerting fire rescue personnel to the stairwell's location.
At Echo Lake, technology is no longer just about Internet access. It is about employing modern innovations to enhance convenience, safety and security – and enrich lives.
This piece was featured on Mainline Media News.