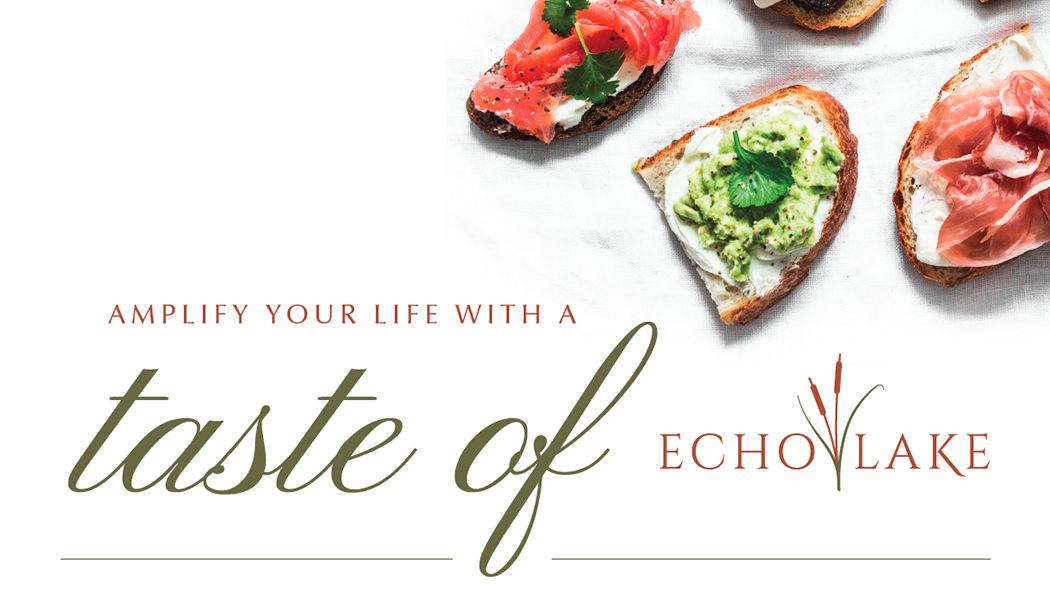 A Taste of Echo Lake
Get a Taste of Your Options
Echo Lake blends an upscale and energetic city feel with the charm and advantages of a small town setting — all with a simple rental approach. Every facet of our community offers lush views of the 70-acre lake or surrounding woodland.
Get a Taste of Your Opportunities
At Echo Lake, there's something around every corner. With countless amenities surrounded by a picturesque view, Echo Lake offers a new outlook, every day.
Get a Taste of Peace of Mind
And with independent living as well as assisted living and memory care, you can get the best care, while maintaining the lifestyle you're accustomed to.
THURSDAY, OCTOBER 20 | 2:00 PM
A delicious tapas-style meal, paired with drinks—designed in a way that allows you to explore Echo Lake while you eat.
Fill out the form below to RSVP.
MENU: Sesame Tahini Hummus with Crudité; Grape Tomato, Fresh Mozzarella, Basil Pesto and Balsamic Pipette; Fruit and Granola Parfait; Shrimp Cocktail; Chateaubriand, Truffle Whipped Potato, Enoki Mushroom, Glace de Veau; Wine, Champagne and Trio Assorted Miniature Dessert Bites
Echo Lake RSVP Form
* indicates a required field