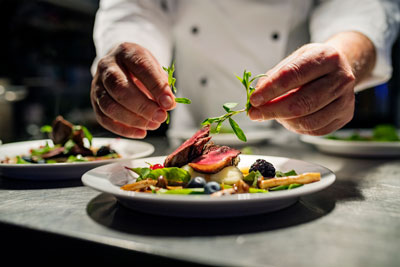 Elevate the Plate! 5 Senior Living Dining Trends
At Artisan at Hudson, we set the bar – and the table – in senior dining. An exemplary dining experience is a major senior living health trend that's been on the rise in recent years.
We give you a dining experience to remember each and every day. You could say that our chefs really bring their culinary expertise to the table! There are also seasonal daily specials like soups and salads that sound like they belong on the menu of a country club! There's never been more to explore with our first-rate senior housing dining program.
The menu changes daily, with flexible dining options available throughout the day and evening, whether you are looking for light fare, a tasting menu in the dining room or happy hour with friends in the lounge. For anytime dining, we always have 4-5 favorites available, which means that we're here for early risers, the brunch crowd or late-night snackers! You can count on us to help satisfy any craving that strikes!
Building a new relationship with food is one of the most exciting trends in senior living dining. At Artisan at Hudson, our dining experience embodies the concepts of choice, fun and deliciousness. Our award-winning Director of Dining Services, Kenrick Haywood, brings energy and life to the community with each new menu he builds.
We excel in understanding how to plan meals for all types of care by learning the ways residents enjoy food and their nutritional needs.
Suggestions are always welcome. Residents are invited to share favorite recipes with ur. Whatever dining preferences are, it's likely we will meet them. And, of course, we accomodate allergies and dietary restrictions.
Read on to learn about recent senior living dining trends and how Artisan at Hudson is on the cutting edge.
1. Fresh Ingredients. One of the easiest ways to embrace the future of senior dining is to offer high quality ingredients and multiple dining options for those with differing culinary needs. Artisan at Hudson exceeds in these areas and more. Take a look at our sample menu for an idea of what to expect.
2. Restaurant-Style Dining. As the world learns more about how health, food and longevity relate to one another, expanded food services have become increasingly important to seniors. Due to this demand, senior communities are now offering restaurant-style dining to their residents. The field is bound to continue to grow and develop as new chefs are hired, new cuisines are pursued, and dining rooms are built to cater to a wider demographic of seniors.
3. Making Meals an Experience. Personalization is important to seniors. Sure, there are tablecloths and flower bouquets placed on dining room tables in many communities. But doe the server know your favorite drink order? All our guests are welcomed by name and by a familiar face. Artisan at Hudson offers restaurant-style dining in well-appointed settings. We strive to make the dining experience about far more than just a meal.
4. Skilled Dining Directors. All-day dining means senior living communities need someone on site who has experience running commercial kitchens and a history of culinary innovation. More and more communities are hiring skilled chefs and dining directors with the goal of staying at the industry's leading edge.
5. 24-Hour Dining. Some senior living communities offer 'anytime dining'. Typically, such options include grab-and-go options, food and snacks that can be purchased on demand. In addition to this, bistros, cafes, dessert shops and grills located inside communities often stay open outside of regular mealtimes. Combine this amenity with restaurant-style dining and you have the next wave in senior dining.
Come See the Hudson Area's Newest Senior Living Community