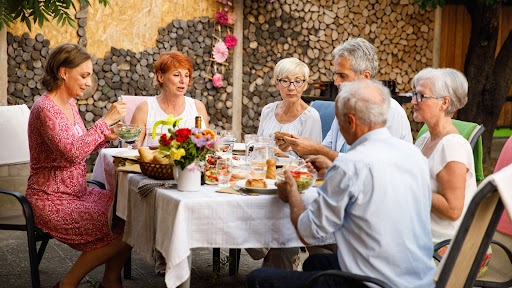 5 Benefits of a Rental Senior Living Community
How much of your home are you using? Feeling drained by your property's maintenance responsibilities? Are there any modifications you will need to make to your house as you age?
To address these issues, older adults often consider downsizing to a senior living community. Both the financial and lifestyle benefits offered by rental senior living communities have made them an increasingly popular choice.
Read on to learn more about rental senior living communities and five of the biggest benefits of moving to a senior living community.
Rental senior living communities are one of the most popular living arrangements for seniors. Residents are usually required to pay an upfront deposit and then rent on a monthly basis for the duration of their residency.
A traditional rental contract doesn't give you access to the countless services and opportunities that Artisan at Hudson offers. As a rental senior living community, our lifestyle amenities include:
Fitness center
24/7 concierge, security and maintenance
Multiple dining options with a flexible dining plan
Weekly housekeeping, complete with bed linen changes
Climate-controlled underground parking
Personal and scheduled local transportation
An extensive calendar of concerts, movies, games, lectures and celebrations
In addition to all these perks, you can access and receive integrated health care, whether you need it now or in the future. Our assisted living and memory care services can be accessed when your level of care changes, provided there's availability.
Your choice of senior living should offer you peace of mind and possibilities. Renting confers the following benefits:
1. More financial control. Estate planning is easier when you live in a rental senior living community. By renting, you'll avoid the hefty entrance fees associated with a buy-in community. Changing course is also easier because you have more flexibility to move from the community should you desire to do so.
2. Get to know the people in the community. Renting an apartment in a senior living community provides a great way to make friends and connect with others. You'll become a valued member of the community and have the opportunity to live an enhanced and personalized life.
3. Secure a maintenance-free retirement. The responsibility of owning property comes with unpredictable costs and burdens on your free time. At a rental community, you'll trade home maintenance for the experiences and enriching activities of your choice. This is an easier transition if you're more than ready to hand over maintenance and upkeep responsibilities. You may be able to find a solution by renting an apartment in a senior community.
4. Accommodations suitable for aging adults. As seniors age, needs change, so senior living rental communities focus on accessibility. Your home will be equipped with accommodations and modifications to help with daily activities.
5. Take steps to prepare for future transitions. It's common for renters to sign a yearlong lease, which gives them the flexibility to move upon the death of a spouse or a change in their needs. Assisted living, memory care, and additional health care services are often available in independent living communities. So when you live at a rental senior living community, changing from one level of care to another is easier than if you live in your home.
Come See the Hudson Area's Newest Senior Living Community