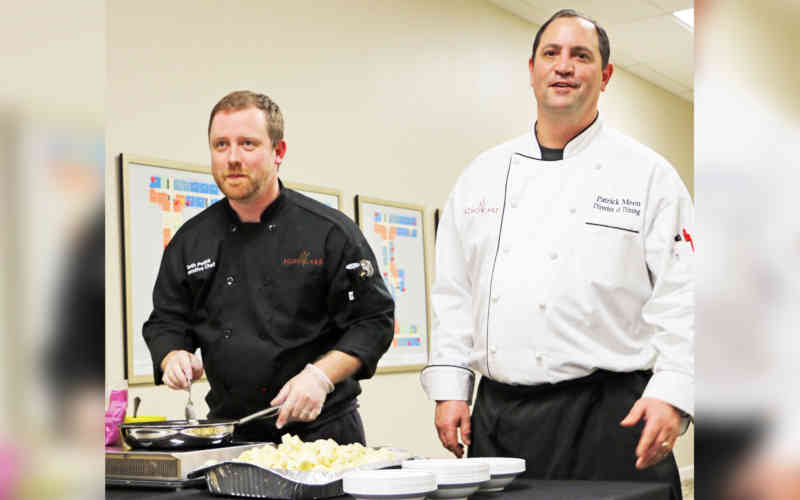 Not Your Grandmother's Cuisine
Echo Lake, the newest SageLife senior living community in Malvern, Pa., will welcome its first residents soon. And, these residents will be greeted by a culinary program that has been shaped by the most influential cadre of American consumers in the past century.
Consumer dining trends, largely driven by the Baby Boomer generation, are increasingly being reflected in changing dining programs at today's senior communities. The days of a community having just one dining room and residents being asked to circle their next day's meal selection on a piece of paper with a couple of choices has given way to "destination dining," waiters and waitresses and more contemporary, sophisticated fare.
"Boomers crave choices whether it's food, home furnishings, entertainment, vacations – you name it," says Schelley Hollyday, founder of the Hollyday Group, which provides hospitality consulting for Echo Lake. "When it comes to food, Boomers are worldlier in their knowledge and experience; they have, in many respects, more sophisticated palates than their parents and grandparents. And, when seniors consider moving to community living, food is an important consideration.
For Baby Boomers, "choices" means not only a variety in types of cuisine, but in eating venues as well. Increasingly, today's seniors want options there, too. "Even your favorite restaurant," says Hollyday. "Think about going there for every meal."
So, Echo Lake features a full-service, fine dining restaurant; a bistro-style café; a rooftop bar and terrace for evening cocktails or watching Monday Night Football; and a Pub for casual gatherings – each venue with its own identity. These different settings support a range of different types of social opportuni- ties: warm, intimate repasts to relaxed, casual get-togethers with friends; celebrations with family or guests to lively bar revelry. This variety of types of social interactions makes for a healthier, more diverse lifestyle. And, chef-prepared food is available around the clock – not just a couple of hours in the morning, at noon and in the evening.
The food? Diners are no longer limited to a choice of, for example, meat loaf or roast turkey with mashed potatoes and green beans. Echo Lake's Director of Dining Patrick Moen loves the challenge. The menu at his recent Echo Lake five-course tasting dinner offers a glimpse of what awaits today's senior living community diners: Mushroom Gorgonzo- la Bisque with Enoki mushrooms and truffle oil; Crab Cake with Cajun remoulade and pea shoots; Rack of Lamb served with a vegetable couscous stuffed tomato, hummus and mint emulsion; Salmon with shaved Brussels sprout salad, saffron lobster cream and micro cilantro; and Chateaubriand served with goat cheese whipped potato, Port wine and fig reduction, topped off with Bananas Foster Flambé for dessert.
Yes, menus at senior living communities have taken a turn toward the decadent. But, if residents are in the mood for comfort food or lighter fare, they are readily available. And, food offerings are planned with residents' health and wellness in mind, too, with menu icons indicating vegetarian, gluten-free and heart healthy options.
"The different dining venues help make possible a flexible meal plan," says Hollyday, "where food points are included in the monthly meal plan that residents can use as they like through- out the week. So, one day a resident might have a continental breakfast and a large, mid-afternoon lunch; the next, they might use their points to entertain family over dinner; the next day, a small lunch and dinner out at one of the Atwater mixed-use community restaurants, all within 1⁄2 mile of Echo Lake."
In planning for residents' dining experience, no detail was too small or too unimportant. "A great deal of care was taken in choosing just the right china – just the right flatware." says Hollyday. "When SageLife made decisions about the food, décor and other amenities, the focus wasn't on 'how much will this cost;' it was on 'how much will this improve the lives of our residents.' I think Echo Lake's residents will notice that customer focus and attention to detail immediately."