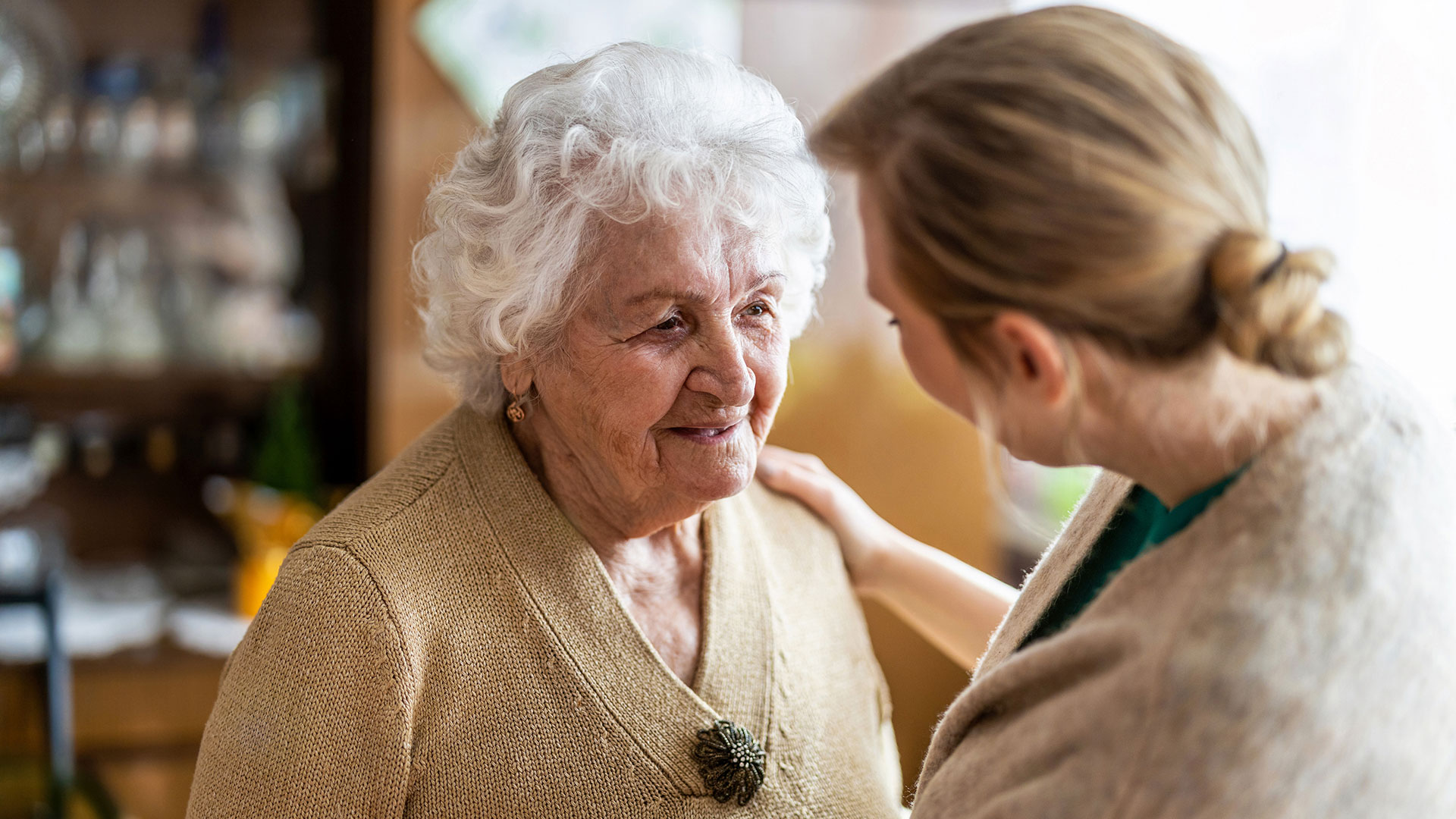 How To Communicate With Someone With Dementia
Experiencing memory loss is difficult and overwhelming for both the person with dementia as well as their loved ones. Dementia comes in many forms, including Alzheimer's disease, and the symptoms can be quite unpredictable. Not only is memory lost, but some people with dementia may even lose their ability to communicate verbally.
There are several ways to approach communicating with someone who has dementia. At Artisan at Hudson, our specially trained senior living caregivers aid not only memory care residents but also guide their family members in practicing communication strategies that help their loved ones feel safe and understood.
The important thing is not to lose hope or give in to frustration. Dementia affects everyone differently, and it takes a great deal of patience to care for and interact with someone who is living with memory loss. Learn how to navigate these specialized communication strategies with confidence below.
Difficulty remembering words and names
Repeating words, stories, or phrases within a short period of time
Losing their train of thought
Speaking less often
Slurring words or not making sense
Deferring back to their native language
To help keep an open dialogue and avoid additional confusion, we recommend following these communication tips.
Make eye contact.
Eye contact allows the individual to feel connected to you and vice versa. It will show that you are being a true, active listener and offering them the opportunity to feel comfortable with what they're trying to share with you.
Be aware of nonverbal communication and visual cues.
Try not to communicate too much with your hands or by making exaggerated facial expressions to get your point across. It can overwhelm and even frighten the individual. If the person is nonverbal, show them simple photographs of what you're talking about so they feel included.
Eliminate background noise.
Too many distractions make communicating even more difficult. If possible, try to always communicate with your loved one in a quiet room without the television or radio on and without other conversations going on in the background. It's also best to try and limit conversations to one-on-one scenarios unless there is a language interpreter or other loved one needed.
Be patient.
We cannot reiterate enough that patience goes a long way with dementia. If the person you're trying to converse with needs a moment or two to think, give them plenty of time to respond and search for the right words without interrupting or forcing them into what they're supposed to say.
Even if they do not end up communicating the right words or making much sense, it's important to go along with it and not let them know they've made a mistake. Taking breaks is helpful too. Don't feel the need to keep pressing a topic if they are unable to follow along.
Keep directions short and simple.
You'll have to change the way you normally ask someone to do something, but those with dementia best understand simple commands in as few words as possible.
For example, instead of asking them, "What would you like to eat for dinner this evening?" you should instead ask, "Chicken for dinner?" followed up with "Yes or no?" Guiding them through conversations versus unloading information all at once is very helpful.
The most important thing you can do in your communication with someone who has dementia is express kindness and love. Whether a friend, family member, or acquaintance, a simple smile goes a long way. It will help show that your presence isn't threatening. And, if you're able, a simple handshake, holding of the hand, pat on the back, or hug can offer all the reassurance they need to feel comfortable in your company.


As time goes on, communication with your loved one may become more limited as their dementia progresses. Try your best to care for them, and know that when additional support is needed, our memory care community is here to help.
Our memory care program stands out from what you'd find at other senior living communities. Why? We employ the Positive Approach® to Care, developed by internationally acclaimed dementia expert Teepa Snow.
This approach focuses on your loved one's personal interests, abilities, wants and needs, 24/7. This thoughtfully designed plan for care features adaptive, life-enriching programming, along with:
Services you'd also find in assisted living, like assistance with activities of daily living (ADLs), including dressing, bathing, grooming, eating, transportation, and medication management
Beautiful and accessible studio and one-bedroom apartments, complete with cable and internet, utilities, routine housekeeping, maintenance, and personal laundry services
Scheduled transportation
A state-of-the-art health and wellness center
An on-site culinary team that crafts customized dishes
A calming and safe indoor and outdoor environment
Connections – a specialized memory care program that provides a full lifestyle lived with dignity. Through Connections, residents experience strength and balancing exercises, social interactions, family events, spiritual services, and physical therapy