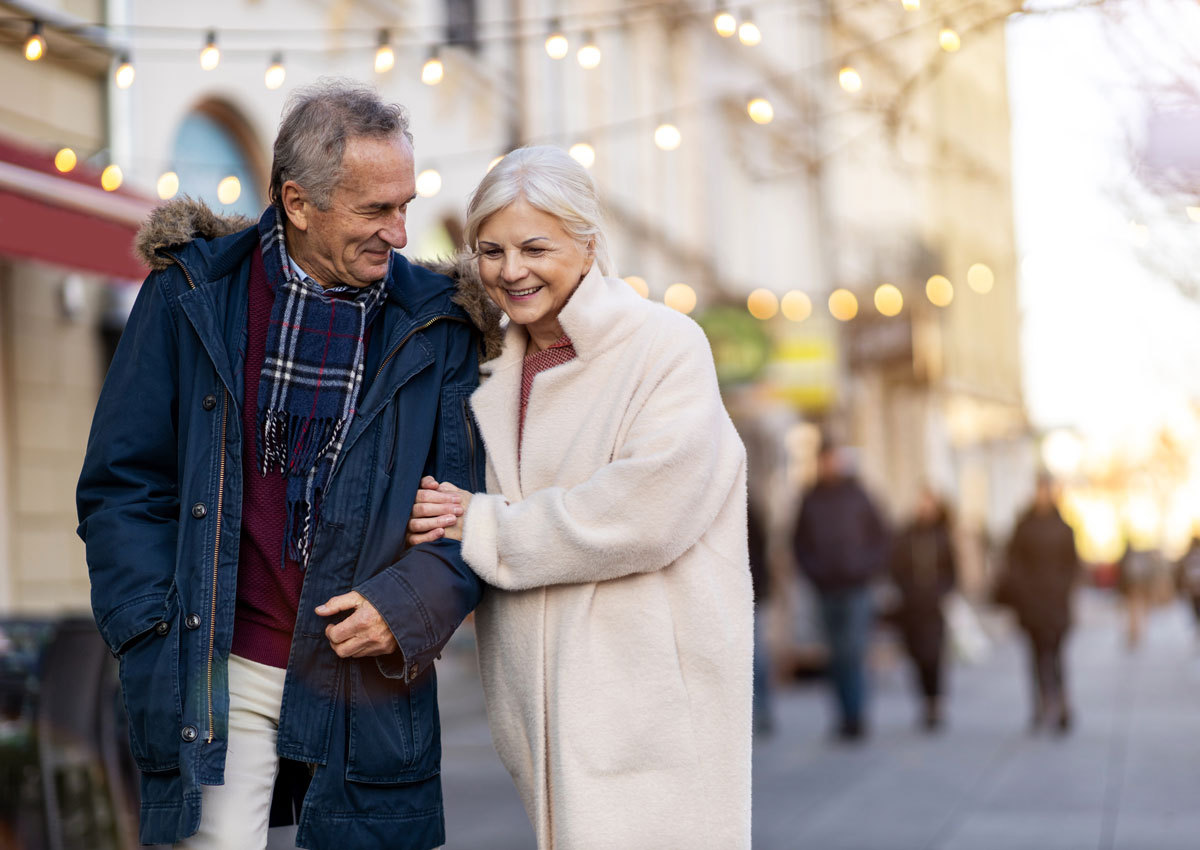 How to Celebrate the Holidays in Senior Living
Celebrating the "first" of anything is always special. If this is your first holiday in senior living, that definitely calls for something to mark the occasion, says Beth Burns, Community Relations Associate at Artisan at Hudson.
2020's celebrations will be unavoidably influenced by the status of the coronavirus as we head into the holidays. But, we'll still find ways to celebrate together, even if we're physically apart and we'll make plans for post-Covid celebrations in years ahead.
"By necessity, celebrating the holidays in senior living will look different, especially if you've moved from a large family home," says Beth. "That is an opportunity to rethink your family traditions and adapt your celebrations to suit your new lifestyle."
Downsizing to senior living, says Beth, provides a unique opportunity to get rid of all the "stuff" – physical or otherwise – that has defined holidays in the past. "One thing we've learned in 2020 is the importance of family and connections," she says. "By focusing on that aspect of the holiday, you will have a happy one, no matter how or where you celebrate it."
Here are a few ways to help you do that.
One of the major reasons that older adults move to senior living is to enjoy the community feel and the social opportunities. So you're not going to want to sit in your home all day – you'll want to be out enjoying everything the community has to offer. Since you no longer have to worry about home chores or repairs, you have all the time you want to plan outings to see holiday lights, attend concerts or visit friends and family. Check your community's event calendar as well to see what outings and events they have planned.
2. Find ways to adapt favorite traditions.
We all have favorite holiday traditions, and just because you've moved to senior living doesn't mean they stop. Although you may need to adapt them slightly to work within the parameters of your new home, it's important to make time for them. If you usually have the whole family together for a big dinner, consider hosting it in the community dining room or passing the torch to the next generation to host. Or if attending the Nutcracker ballet is a must do, you could queue up a performance on Netflix and host a party in your new home. Think outside the box and keep the heart of the tradition.
3. Be purposeful about decor.
Moving to a new, smaller space means that you may not be able to hang every ornament on your tree or put up every single festive decoration. However, it does allow you to streamline your decor and place the most important items front and center. Instead of cluttering your new home with holly upon jolly, choose a central focal point – for example, your fireplace mantel – and decorate that to the hilt. The rest of your home can be brought together with purposeful touches like decorative pillows. And, keep in mind, the community spaces will be decorated beautifully and you won't have to lift a finger.
If you've moved to senior living, you more than likely don't want or need anything many 'things' this year. Since you've just undergone a significant life change, you may also want to look at this as a chance to change gift-exchanging strategies. This year has shown many of us what's really important to us, and it isn't more stuff. Instead, talk with your loved ones to see if they'd be open to drawing names for a fun pollyanna, focusing gift-giving on kids or even planning an experience, like a weekend together or a party, in lieu of gifts.
5. Host multiple gatherings.
Instead of having one big holiday gathering in your home, break it into several different events for different groups. That way you can more easily fit everyone in your new space (and it's a lot less overwhelming, too). You could also use a community space to host the whole gang or have an open house that allows for visitors to come throughout the day.
6. Consider a whole new tradition.
Since you've entered a new chapter in your life, you may want to explore starting a new tradition. Have you always wanted to spend the holidays on a beach drinking fancy adult beverages? Or perhaps you're tired of traveling across the country to see people on obligatory days, and instead would like to change your visits to, say, the middle of the summer? Or you'd like to just spend the holidays with you and your spouse? This is the perfect opportunity for you to shake things up. Think about what you've always wanted to do … and then do it! The world is your oyster.
7. Connect with your new community.
You moved to a new community for a reason. This place will be your home for many years, so why not take the holidays as an opportunity to introduce yourself to new friends and acquaintances? Even if you've been at the community for several months, your neighbors would love the chance to socialize and see your space. Consider hosting a small cocktail hour or mini open house for your neighbors. It might be the beginning of a wonderful new tradition in your new home.
"No matter how you choose to celebrate, be sure you do celebrate," says Beth. "We don't know what 2021 has in store for us, but one thing's for sure: we'll do everything we can to keep our residents safe, happy and healthy … and provide so many ways for them to make the most of this new chapter of their lives."