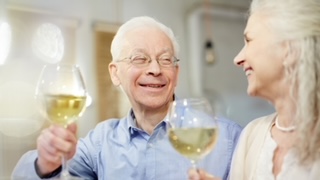 No More Household Chores: How Senior Living Communities Make Life Worry-Free
Think of all the daily household chores you've been doing and all that you'll still have to do this fall and winter. Between raking leaves, shoveling snow, and other seasonal tasks, it can be overwhelming to take these responsibilities on as we age.
While it's important for older adults to remain mentally and physically active to live longer, doing major household maintenance is difficult and let's face it, not so much fun. It can even be risky. For example, shoveling snow puts a lot of stress on the body and can increase your risk of falling.
Why take the risk of injuring yourself when there's senior living in Hudson that takes care of these household duties for you?
Engage in activities you actually enjoy, and learn how life becomes worry-free in our active retirement community, below.
The days of worrying about doing household chores yourself or asking family members or professionals for help are over. At Artisan at Hudson, we'll handle everything inside and outside your new residence, all year long. Here's a list of the responsibilities we take on at no extra cost so that you don't have to lift a finger.
Snow shoveling
De-icing of walkways/driveways/parking lots
Landscaping
Lawn mowing
Raking leaves
Clearing gutters and downspouts
Servicing HVAC systems
Window washing
Weekly housekeeping (scrubbing, dusting, vacuuming and sweeping of all rooms)
Bed linen changes
Laundry/dry cleaning services
Clean hallways and common areas
Convenient dining
Rearranging and moving furniture
Hanging pictures/artwork
Moving items in and out of storage compartments
Changing lightbulbs
Servicing utilities like gas, electric, water, cable, and internet
At our senior living community, residents also receive 24/7 concierge, security, and maintenance services. That means whenever you need assistance with any task, no matter how large or small, we'll be there to help.
With household chores off your priority list, you'll have more time to take advantage of every service and amenity we provide to residents as part of our MOSAIC lifestyle. Check out three extra benefits of living at Artisan at Hudson, below.
A comprehensive continuum of care services.
You may enter our senior living community as an independent living resident, but if your needs ever change, you'll have access to assisted living and memory care services as well. Every living option is personalized to your needs and includes every service and amenity that will help you live your best life.
Some additional responsibilities included in our care services are activities of daily living (ADLs). Our staff will assist residents with dressing, bathing, dining, toileting, and medication and appointment management if needed.
A focus on health and wellness.
Sometimes prioritizing healthy eating and exercise habits can feel like a chore in and of itself. At Artisan, residents take any class they want in our well-equipped fitness center. If they need guidance, we'll create a customized wellness plan in conjunction with their needs and interests.
You won't have to worry about constantly coming up with new recipe ideas either. We have a variety of culinary options that all focus on serving a balanced diet while adhering to your dietary restrictions. Our professionally trained chefs want you to look forward to every meal and are always creating something delicious for you to enjoy. You can choose to dine privately in your residence, in our restaurant-style dining room, or in our cozy lounge.
Socialization and engagement.
You won't have to worry about finding new activities to occupy your time or getting together with friends because there are many opportunities to socialize and engage right here in our community.
The relationships forged between residents and our staff are familial, fun and supportive. We put everything in place for residents to pursue their passions and bond with others. Some of the group activities residents love include:
Clubs like Crafty Angels and Model Airline
Field trips to local area attractions
Involvement with the welcoming committee
Volunteering
Educational and cultural events
Happy hours
Concerts, game and movie night, and more mentally and physically engaging get-togethers
Whatever you desire for your future, we'll make it happen. By ridding you of the burdens that come with homeownership, every day will be made up of more of what makes you happy.
Eliminate the hassles of household chores when you move to our senior living community in Hudson, Massachusetts. With less responsibility, you'll have more time to enjoy activities you love and focus on your well-being. Learn more about how to live life on your own terms, and schedule a visit to see the wonderful lifestyle for yourself.