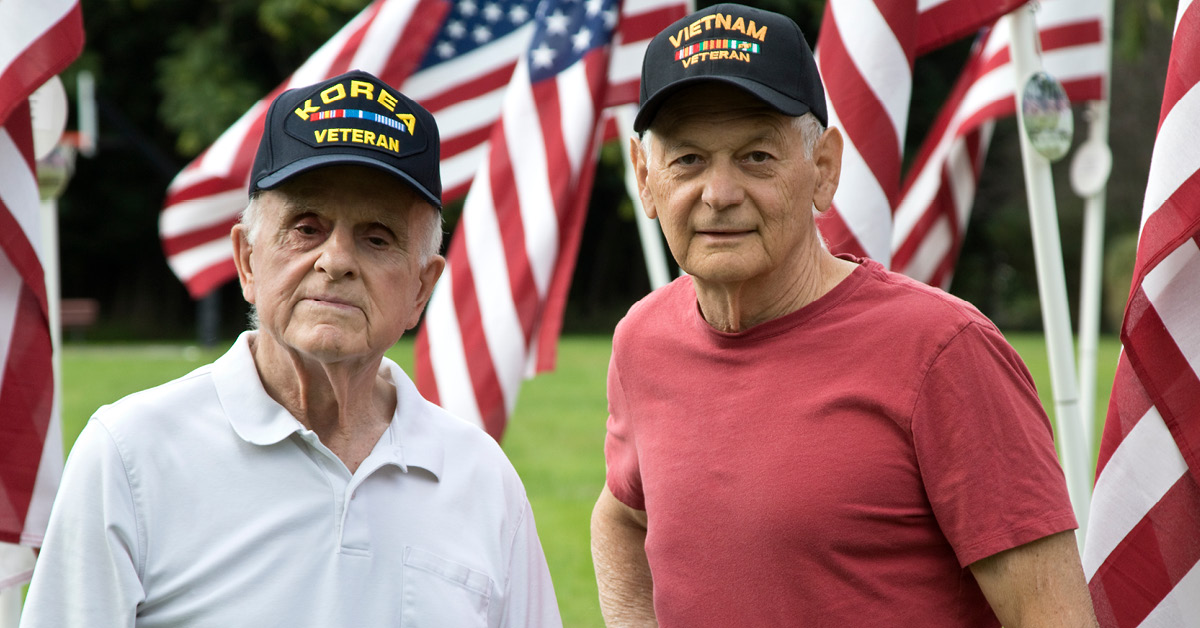 Your Guide to Veterans' Benefits for Seniors
Moving to a senior living community like Artisan at Hudson isn't simply about relocation – it's the beginning of an exciting new life, free of worry and filled with fun, friendship and supportive personalized care that focuses on preserving independence. When you add it all up, you'll find extraordinary peace of mind and a lifestyle designed to help you thrive.
Unfortunately, many believe the costs of independent living, assisted living and memory care are out of their reach. The good news is that there are financial aid options available. Veterans and their spouses may qualify for thousands of dollars in government assistance – and many don't even know it.
The Veterans Aid and Attendance Program and Housebound
Ensuring that Veterans have a safe place to live is an important part of what the U.S. Department of Veterans Affairs does. Two programs for elderly Veterans specifically help with this: the Veterans Aid and Attendance Program (A&A) and Housebound.
The programs are government-funded pension benefits designed to help seniors who have served in the military and their spouses pay for senior living. Both are tax-free benefits that help cover the cost of long-term care in the home, in an assisted living community or in a memory care center. The A&A Pension is a monetary "add on" to the Basic Veterans/Survivors Pension.
Who Is Eligible for Veterans Aid and Attendance Benefits?
According to the U.S. Department of Veterans Affairs, to qualify for the A&A program, the government says you must meet the following criteria:
You may be eligible for this benefit if you have (or have qualified for) a VA pension and you meet at least one of the requirements listed below:
You need another person to help you perform daily activities, like bathing, feeding and dressing, or you have to stay in bed – or spend a large portion of the day in bed – because of illness.
You are a patient in a nursing home due to the loss of mental or physical abilities related to a disability.
Your eyesight is limited (even with glasses or contact lenses, you have only 5/200 or less in both eyes or concentric contraction of the visual field to 5 degrees or less).
Housebound is an increased monthly pension amount. Permanently disabled Veterans who are greatly confined to their homes may be eligible. Veterans may qualify for this increased amount if one of the following is true:
You have a single permanent disability evaluated as nearly 100% disabling, and because of this, you are permanently confined to your immediate location.
You have a single permanent disability evaluated as disabling and another disability (or disabilities) evaluated as 60-percent or more.
Other Aid and Attendance Requirements:
Veterans must have served at least 90 days of active military duty with at least one day during an eligible wartime period.
You must have received an honorable, or anything other than a dishonorable, discharge.
Veterans must also be at least 65 years of age to qualify for A&A benefits. The surviving spouse can be any age.
Qualifying for Enhanced Benefits
While the Department of Veterans Affairs says you may not receive enhanced or special monthly pension without first establishing eligibility for VA pension, the enhanced pension is based on a higher income limit, so those not eligible for a basic VA pension may still qualify for increased pension benefits.
You may not receive Aid and Attendance benefits and Housebound benefits at the same time.
Discover an Artfully Curated Lifestyle
Located in Hudson, Massachusetts, Artisan at Hudson offers distinctive rental senior living designed to give residents everything they want and need. With the convenience of transportation, multiple dining venues, a fitness center, underground parking and several supportive lifestyles on campus, combined with our empowering programs to enhance well-being and so much more, we can provide you with an artfully curated retirement lifestyle.
Artisan at Hudson is a community where residents can create their own journey, with more opportunities, more convenience, more choices and even more wow, all in a beautiful, modern setting equipped with everything you need to live well. Think a variety of open floor plans, upgraded appliances and refined finishes along with carefree and worry-free living. It's all within your reach.
Call for information at ​(978) 212-9353 or visit our website.