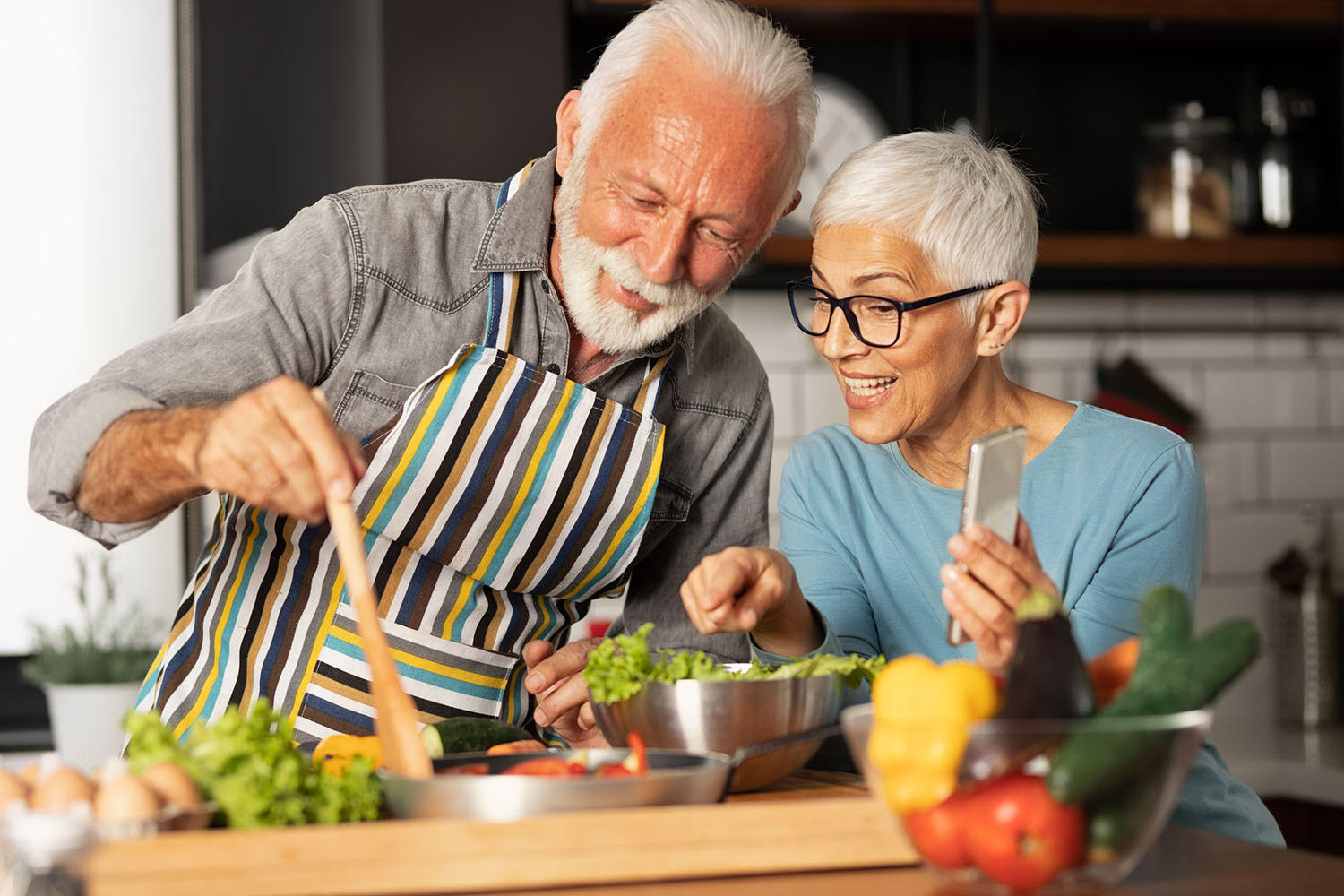 Finding Peace of Mind and Security During Aging
Peace of mind and security are two important needs all humans have, no matter how old or young. No one wants to – or should have to – feel unsafe or unstable, particularly when it comes to their living situation. For older adults, moving into a senior living community can provide that stability and peace of mind they're seeking, especially if they've experienced difficulty with health issues or the effects of the COVID-19 pandemic.
"Senior living such as you'll find at Artisan at Hudson is designed to help meet the needs of residents through thick and thin," says Beth Burns, Community Relations Director at Artisan at Hudson. "No matter what happens, whether it's a pandemic or simply the issues that come with aging, choosing senior living means you'll have an environment and a lifestyle that will help you live your best and age well every day."
Beth says that it is completely possible to have security and peace of mind without moving into senior living, but communities such as Artisan at Hudson just make it so much easier. "There are plenty of things you can do on your own to make sure your living space is exactly what you need as you age, but that can take a lot of work and time," Beth says. "Moving into a community takes that planning, stress and worry off your shoulders and allows you to start enjoying the benefits practically immediately."
How To Find Peace of Mind and Security in Aging
Maintain your independence.
Staying independent is at the top of most people's lists of wants as they age. After all, no one wants to be reliant on others for their well-being. However, remaining independent as you get older can require some adaptations to your lifestyle. If you live in a private home, for example, you'll need to make sure you have the support and services available that will allow you to stay healthy and active.
You may need to renovate your home to allow for wider doors and walkways that would accommodate a walker or wheelchair. You also would want to make sure that your bedroom is set up on the ground floor and that your home was designed in such a way that navigating it would be easy and safe. You also would want to make sure that you had assistance when necessary for tasks and even activities of daily life. In a senior living community, all of these things and more are already available to you, allowing you to maintain your independence for as long as possible. In fact, you could find you're even more independent after moving into senior living!
Remain socially active.
Social interaction is incredibly important to our health and well-being. Unfortunately, as we get older, it can be harder to get together with the people we care about (even when there isn't a global pandemic occurring). This may mean scheduling recurring outings, calling someone on the phone every day or just remembering to send a text to someone you care about. Because it can be so hard to stay social as we age, many seniors choose to move to senior living – a place where community is as easy as stepping out your front door. Not only are there plenty of people to meet and care about, but there are also regularly scheduled activities and events that make it even easier to connect with others.
Eat a healthy diet.
Good nutrition is the building block of health, and as we age, it becomes even more important due to the changes taking place in our bodies. We all know what we need to do to eat a healthy diet – fruits and veggies, whole grains, lean proteins, healthy fats, not a lot of sugar, salt or processed foods – but let's be honest: it can be hard to have a balanced diet on the best of days. Older adults don't always eat well either because it's too much work or they simply aren't interested in eating alone. Plus, it's simply easier for older adults to become malnourished due to the way the body absorbs (or doesn't absorb) nutrients. But eating healthily is easy as pie in senior living – these days, the meals that are served rival what you'd find in fine dining restaurants. Besides the fact that the food is fresh, delicious and varied, it also has been designed to meet the nutritional and dietary needs of older adults.
Get plenty of exercise.
An active lifestyle goes hand in hand with a healthy diet for good health (which leads to more independence, which leads to peace of mind). You don't have to sweat it out at the gym for hours a day to reap the health benefits. Just 30 minutes a day, 5 days a week is enough to boost metabolism and the health of your immune system, improve mood, reduce risk of various diseases, build muscle strength, enhance balance and have many other benefits. Just like eating well, this can be a slog to do – but in senior living, the community makes it easy by offering a wide variety of activities, classes and opportunities to get physical. It helps that the maintenance-free lifestyle takes away the need to do boring and tedious chores, too.
Reduce stress.
When we're stressed, our bodies go into a fight-or-flight response. As we get older, it seems like there are more and more things to be stressed out about. Worrying about the future, wondering what will happen if there's an accident or you get sick, concern about your safety … these all add to the stress, which reduces your peace of mind in a big way. Part of the benefit of moving into senior living is reducing that stress because the worry about safety, security and many other things gets relieved instantly.
"I wish more seniors understood the benefits that senior living, specifically assisted living, can provide," says Beth. "Right now, we have availability in our assisted living lifestyle, and we'd love to show you or a loved one how the active and carefree lifestyle at Artisan at Hudson can provide peace of mind and security now and in the future."
Discover an Artfully Curated Lifestyle
Located in Hudson, Massachusetts, Artisan at Hudson offers distinctive rental senior living designed to give residents everything they want and need. With the convenience of transportation, multiple dining venues, a fitness center, underground parking and several supportive lifestyles on campus, combined with our empowering programs to enhance well-being and so much more, we can provide you with an artfully curated retirement lifestyle.
Artisan at Hudson is a community where residents can create their own journey, with more opportunities, more convenience, more choices and even more wow, all in a beautiful, modern setting equipped with everything you need to live well. Think a variety of open floor plans, upgraded appliances and refined finishes along with carefree and worry-free living. It's all within your reach.
Call for information at ​(978) 212-9353 or visit our website.