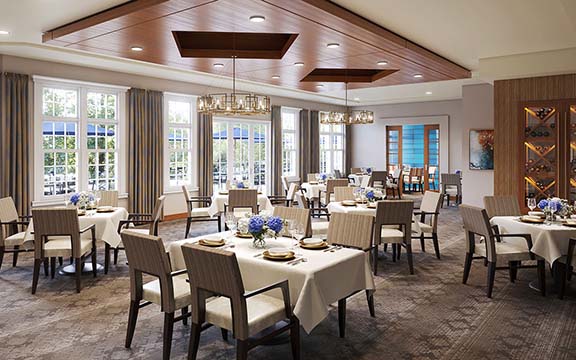 Experience Senior Living Perfected with Artisan at Hudson
At Artisan at Hudson, we have perfected senior living. We're at the leading edge of the "aging well" movement, meaning we empower you to discover your passions, live life your way and create a lifestyle that's as individual as you are – we simply provide the means to do it.
"Artisan at Hudson is thoughtfully designed for today's seniors," says Beth Ann Burns, Community Relations Director at Artisan at Hudson, a retirement community located in Hudson, Massachusetts. "Not only are we smaller and more intimate than cookie-cutter senior living communities, but we have curated every little detail of our community to ensure seniors experience the lifestyle that they want, need and deserve, no matter the level of care they require." 
Artisan at Hudson: A Different, Better Senior Living Experience
What makes us different from the rest isn't just one thing, it's everything! We're unlike any other senior lifestyle you'll find. It's your home, your way. We've perfected senior living with our key differences:
Everything is about you. At Artisan at Hudson, your days are yours to create. Do what you want, when you want. Pursue more. We provide you with the inspiration, resources and expertise to help you get there.
Every day, there's something new. Our catalog of programming dares you to explore; an array of lectures, talks, live entertainment, classes, clubs and more, no day ever looks the same – if you want it to!
A convenient location. Our eight-acre campus sits on the Assabet River Rail Trail and is close to everything you want and need. From local shops and restaurants to downtown galleries and more, everything is a short drive away – even better, we provide the transportation so you can simply sit back, relax and enjoy the ride!
Carefree lifestyle. The days of shoveling and raking, cleaning, and performing maintenance are over and done with. Let us take care of everything for you so you can enjoy whatever you'd like!
Complete peace of mind. Although the time may come when you need care, living life on your terms shouldn't stop! At Artisan at Hudson, it doesn't! Whether you need supportive living or memory care, we can meet your needs while giving you the peace of mind that the community you love doesn't have to change!
These are only some of the ways we stand out from the crowd. Talk to a member of our team today to learn more!
Discover more about our luxury Active Adult Living and how we can help you experience senior living perfected! Call 978-212-9353 for information today!
Discover an Artfully Crafted Lifestyle
Located in Hudson, Massachusetts, Artisan at Hudson offers distinctive, rental senior living designed to give residents everything they want and need. With the convenience of transportation, multiple dining venues, a fitness center, climate-controlled underground parking, and supportive living on campus, combined with our empowering programs to enhance well-being and so much more, we can provide you with an artfully crafted retirement lifestyle.
Artisan at Hudson is a community where residents can create their own journey, with more opportunities, more convenience, more choices and even more wow, all in a beautiful, modern setting equipped with everything you need to live well. Think a variety of open floor plans, upgraded appliances and refined finishes along with carefree and worry-free living. It's all within your reach.
Call for information at 978-212-9353 or visit our website.