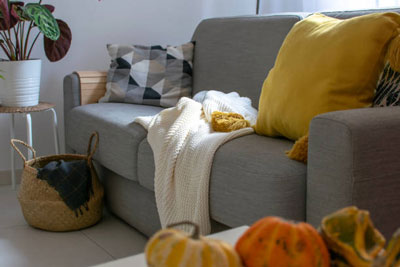 Decorating Your New Space for Fall
The first day of fall – September 22 – is fast approaching, and we can't wait to enjoy cooler weather, the turning leaves, autumnal activities like apple picking and corn mazes … and, of course, changing out your summer decor for a more fall-ish mood.
"The changing seasons are perfect times to revamp your living space to make it cozy, homey and comfortable," says John Merry, Community Relations Director at Artisan at Hudson. "If you've just moved into a smaller space like a senior living residence, you're probably wondering how you can add a fall feel without overwhelming your small space. This time of year is actually a perfect beginning season for decorating your new home because of all the natural touches you can add in a simple, easy manner."
Here are a few ideas to get the fall-ification of your home started, no matter what your style or how large or small your living space is.
Fall is naturally a time for gathering with family and friends to celebrate and spend time together. It's no wonder, then, that our dining room tables end up being a feature in many decor schemes. In a smaller space like a senior living apartment, your decor has to work harder, and dining tables make a perfect visual center of attention. Choose rich reds, oranges, greens and yellows for tablecloths, placemats and napkins – that's an easy way to add a fall feel without becoming overwhelming. Making a centerpiece is as easy as heading outside to pick up pinecones or brightly colored leaves. You may even want to swing by the farmer's market to pick up small pumpkins, a bushel of apples or variegated Indian corn.
Most of us can still enjoy the great outdoors well into the fall months. Transform your patio or balcony into a cozy haven that can be used to entertain or enjoy a hot cup of coffee. Warm blankets, fuzzy pillows and soft lighting are all great additions. Depending on the rules and regulations in your community, you may want to invest in a radiant heat source or a small fire pit as well. In terms of decor, keep it simple and let nature inspire you. Bunches of corn stalks, pumpkins, hay bales and other natural features are affordable, easy to find and – bonus – you won't have to store them when the season is over.
When square footage and floor space seem tight, remember that you have a lot more space than you think: your walls. Create a gallery wall with bold colors and warm textiles that draw the eye in surprising ways. You may also want to swap out your existing pictures for seasonal wreaths, garlands or fall-appropriate prints. Of course, if you have a fireplace in the family room, don't forget to decorate the mantel and have a singular focal point that draws the eye.
Combine decor with function.
Thinking creatively with some of your existing decor can help you create a fall feel without having to completely redecorate your small space (which is good if you don't have a lot of extra storage space). Take a look at what you have out currently and see what you might be able to jazz up with a few fall touches. For example, if you have a basket that holds your remote controls, find another place for those and add apples, leaves or other fall items in the basket – voila! You've created a centerpiece without having to leave your home.
Sight is obviously the sense we gravitate towards when it comes to decorating – but it's not the only one you can use. Scent, for example, is one of the most powerful ways to evoke a seasonal feel. Scented candles or room sprays can add that little extra oomph that puts you in an autumn mood. Touch can be evoked through textiles like pillows, blankets and throws. If you want to delight your sense of hearing, light a fire and listen to the crackle of the flames. (Candles, especially WoodWick candles, can help mimic that feel if you don't have a fireplace.) And of course, you can't forget taste – and the tastes of the season are simply glorious. This is a great time of year to bake or visit a farmer's market for seasonal favorites like apple pie, pumpkin spice lattes, pumpkin bread and so much more.
When in doubt, use nature.
Fall is the one season where you may not even have to spend a penny on decorating. Nature provides all the decorations for us, such as mums, colorful leaves, decorative grasses, acorns and pinecones and more. A walk around your neighborhood can be a great way to find decor that inspires without breaking the bank.
"If you've just moved to our community, fall is a great time to get settled and enjoy everything we have to offer," says John. "We, of course, love getting into the seasonal feel, and you'll find all sorts of fall touches throughout our common spaces. It's also a time of year that's filled with festivals and other events, and we're always planning things for our residents to get them out and enjoying everything the community has to offer."
Discover an Artfully Curated Lifestyle
Located in Hudson, Massachusetts, Artisan at Hudson offers distinctive rental senior living designed to give residents everything they want and need. With the convenience of transportation, multiple dining venues, a fitness center, underground parking and several supportive lifestyles on campus, combined with our empowering programs to enhance well-being and so much more, we can provide you with an artfully curated retirement lifestyle.
Artisan at Hudson is a community where residents can create their own journey, with more opportunities, more convenience, more choices and even more wow, all in a beautiful, modern setting equipped with everything you need to live well. Think a variety of open floor plans, upgraded appliances and refined finishes along with carefree and worry-free living. It's all within your reach.
Call for information at ​(978) 212-9353 or visit our website.