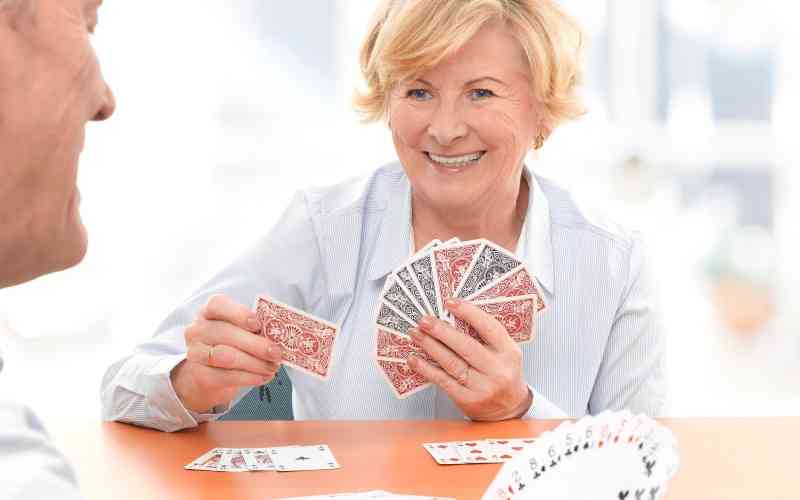 Card Games For Seniors
Card playing is a fun hobby at any age, but it's especially beneficial for older adults. Studies show that playing cards can improve mental health and stimulate brain activity. Here's a more detailed look at some of the benefits of card playing:
Combats feelings of depression. Most card games are played in a group or with at least one other person. Some even require players to partner up. Card playing is a social activity that encourages conversation and friendship and can help stave off feelings of isolation.
Reduces stress. Successful card playing requires a fair amount of attention and encourages participants to refocus on the game and away from other potentially stressful thoughts. Card playing can also be a relaxing activity when enjoyed with a group of friends.
Improves memory and cognition. Many card games require memorization or short-term recall, which can be helpful for exercising the brain and keeping memory sharp. Engaging in memory-oriented leisure activities over a sustained period of time can even reduce the risk of developing Alzheimer's and other forms of dementia.
Sharpens logical thinking. Most card games rely on math skills and strategy. Regularly playing cards can be beneficial for mental agility.
Popular Card Games
Ready to get your deck out and get started? Here are some popular card games to enjoy with friends and some basic rules to follow.
Looking for more card game ideas? Here is a popular card game resource that includes an index of hundreds of card games. Pick a game that's new to you and introduce it to friends at your next get-together. At Daylesford Crossing we believe that being part of an active and well-connected community is a critical component of aging well. Schedule a tour today to learn more about our various lifestyle and wellness programs.