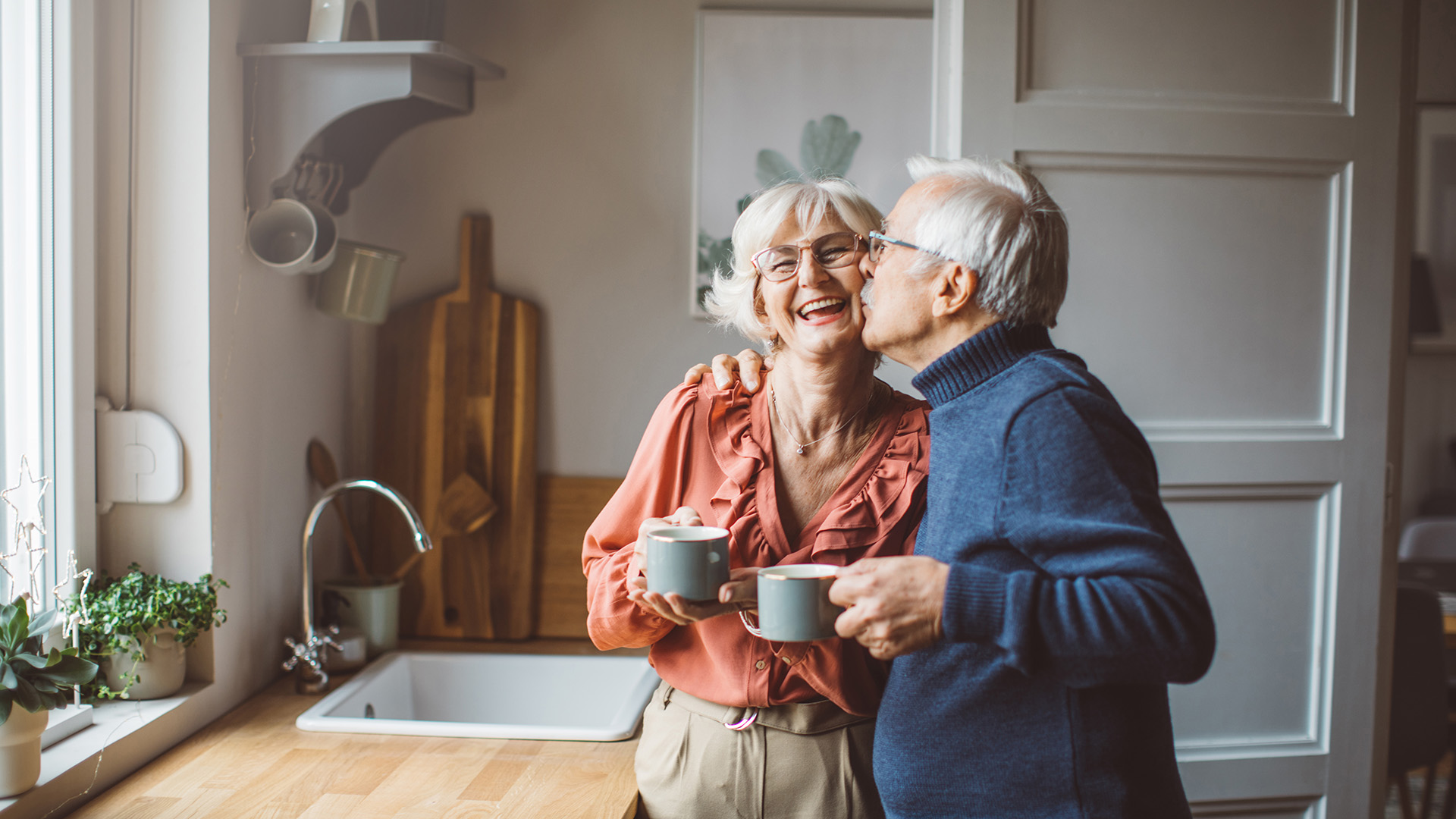 Aging Together: Assisted Living for Couples
There is no greater joy than spending your life with the one you love. As you age, however, what happens when care needs begin to increase and one of you needs more support than the other?
The right decision can make all the difference in your role as a spouse, as well as if you'll be able to remain within the same home for all the days of your life. This is why it's crucial to know your options and plan for the future – and we're happy to be here to support you on your journey.
Below, we'll cover what your options for assisted living are, how the right care option can allow senior couples to receive different levels of care, what the costs of assisted living are, and why Artisan at Hudson might be the right choice for you and your loved one.
Assisted Living for Couples: The Options
Continuing Care Retirement Communities
Those who plan ahead may have chosen a Continuing Care Retirement Community, which requires a large entrance fee, a monthly fee, a contract, and lots of upfront planning. If you or your loved one need assisted living right away, you might not be able to be in the same community because both people moving to a Continuing Care Retirement Community need to pass an assessment.
Home Health Care
Home care makes it possible to stay together, but skilled nursing at home can be costly and often means you'll need to provide some support for your loved one. As their, and your, care needs change, this can become difficult, have a negative impact on mental health, cause isolation, and make a move to an assisted living community necessary.
Rental Senior Living Communities
Rental senior living not only gives you financial flexibility and freedom, but many provide you with access to various specialized care types while allowing couples to remain together. This not only enhances the peace of mind of adult children who are supporting their aging parents but also enhances your and your loved one's quality of life and lifestyle.
Artisan at Hudson: A Blessing for Couples With Different Care Needs
If you're like many older adults who want to enjoy:
The peace of mind of support available if or when it's needed, even if care needs differ
The financial flexibility of a rental community
An engaging lifestyle, enriching services and programming
Then Artisan at Hudson is the place to be.
Learn more about what you can expect at Artisan at Hudson below as we answer your most common questions and share more about our lifestyle.
How Can Couples Receive Different Care?
Because of this, couples who require different levels of care may live together in an assisted living or memory care apartment. In either case, each resident would receive the exact care that each needs, whether it's as little as no care at all, some assistance with activities of daily living, or support with a chronic condition that requires great oversight.
It is possible that you may need to move apartments according to care needs, but you can both remain together regardless, so long as you're willing to move along with them.
Couples may also live within the same community in separate apartments, allowing them to share their days, meals and activities together, then returning to receive support in separate residences.
Does Assisted Living Cost More for Couples?
Most communities implement a second-person fee if you remain in a residence with your loved one. If not, and you choose to stay in two different apartments, each will hold its own rental rate, with no second-person fee.
In both cases, yes, it appears to cost more, but when you compare the costs of one of you remaining at home, you could be saving.
Enjoy Our Lifestyle Together
Aside from the benefits of rental living, access to care and your beautiful apartment, there are many more benefits to moving to our senior living community. Discover all you can enjoy when you move to Artisan and experience our lifestyle together.
A Range of Services and Amenities
No matter your care needs, you can enjoy services and amenities that help you live a carefree lifestyle:
24/7 concierge, security and maintenance
An array of dining options prepared by a professionally trained chef
Weekly housekeeping and linen changes
Local transportation
An Engaging Lifestyle
Pursue your passions, engage in social activities, or attend our many events. There's always something for you and your loved one to enjoy.
Coordinated concerts
Games and movies
Educational lectures and lifelong learning opportunities
Social events and celebrations
Wellness opportunities in our well-equipped fitness center
A variety of clubs, groups and committees
Outdoor activities and gathering spaces
Enriching MOSAIC Programming
MOSAIC is our dynamic model for engaged living. Which stands for:
Movement – An active lifestyle that enhances mind, body and spirit
Outreach – A sense of purpose through giving our time and talents
Social – Frequent engagement, promoting emotional and mental health and longevity
Arts – An outlet for creativity, whether making or appreciating art
Intellect – We're continuously learning and challenging ourselves
Curiosity – Freedom to explore and follow your inquisitive mind wherever it leads
Experience Our Community for Yourself
At Artisan at Hudson, we're committed to making your senior living experience perfect for you and your spouse, even when care needs are different. Schedule a tour of our community and get an inside look at our assisted living apartments today.