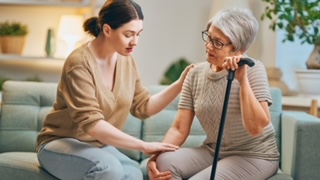 The Top Signs Your Aging Parent May Need Assisted Living
The holiday season is a wonderful time to visit with family members and make lasting memories. This may also be a good time to observe your aging parents and discuss their care and living options for the future.
If it seems like their health is deteriorating or if they're struggling to complete everyday household tasks, moving to a senior living community could be a helpful solution for elder care.
Our senior living community in Hudson, Massachusetts, can help. Learn more about common behavioral signs that alert the need for additional help as well as the best tips for caring for your parents.
It's important for adult children to be aware of changes in their parents' health. The following signs indicate they may need additional help or long-term care from family caregivers or senior care professionals.
The most obvious signs are changes in physical movements. And while you may not always be around to observe them, pay attention to any of these actions and symptoms when you get together for the holidays:
Trouble getting out of a chair/sofa or bed
Loss of balance
Difficulty bathing or using the restroom
Shortness of breath
Bruises, burns and cuts (could signify a recent fall or running into objects)
Difficulty seeing
Low energy
Significant weight loss or gain
Dehydration
Difficulty getting dressed
Holiday parties and events are an opportunity to notice behavioral changes. You'll be able to witness how your parents interact with others and if they become easily overwhelmed or overstimulated by bright lights and loud music. Other signs include:
Short temper or increased agitation
Slurring of words
Lack of hygiene (dirty clothing, unkempt hair, noticeable body odor, or bad breath)
Lack of sleep
Changes in eating habits
Loss of interest in activities they usually enjoy
Hoarding
Dirty home (overflowing trash; sink with dirty dishes; spoiled groceries; clear signs of dust, dirt and grime)
Untended yard
Unexplained damage to their car
Does your mother suddenly forget how to make her classic holiday dishes? Does your father struggle to find where he stored the decorations from last year? With cognitive changes, common knowledge and everyday tasks will grow increasingly difficult. Any of the following signs can indicate Alzheimer's or other forms of dementia. Regardless of the specific diagnosis, a home care plan or senior living may be the next step to ensuring your parents' safety and well-being.
General forgetfulness (forgetting to pay bills, not remembering current events or names of family and friends)
Dangerous forgetfulness (not remembering to take medications, forgetting to eat, leaving the stove on or water running, leaving the car running)
Confusion or loss of train of thought
Getting lost while driving
Not wearing appropriate clothing for the weather
Wandering outside
Unable to tell time
Increased paranoia and anxiety
We understand how overwhelming it can be to watch your parents change over time. During this journey, make sure you're finding solace in helpful resources and caregiver support. In the meantime, here are some helpful tips to implement at home:
Keep their home safe.
Help them declutter, clean, and implement safety features like walkers and guardrails. During holiday festivities, help them hang lights, join in on the cooking, and make sure fragile ornaments are handled with care. It can also be helpful to host smaller gatherings for them.
Check in more frequently.
Make it a point to call or stop by more often than usual just to see how they're doing.
Explore senior living options.
Caring for your loved ones at home may not be the most practical or safest option. Look into senior living that provides a continuum of care levels and a culture that fosters personal happiness, no matter what level of care your parent needs.
We're the perfect senior living solution for older adults who want to remain active and who need additional care. Learn more about assisted living and memory care at Artisan at Hudson and how our community offers the right balance between freedom and support.