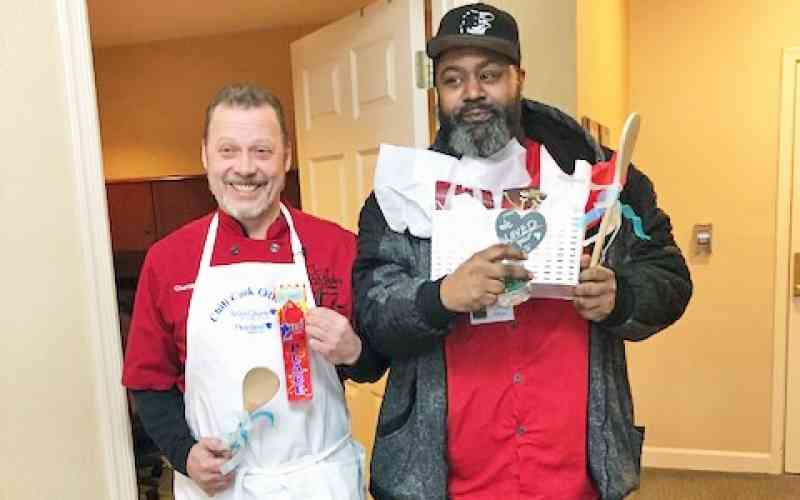 A Tasty Win for The Maples
The Maples of Towson brought home the red ribbon from a recent Chili Cook-off. Maples' Service Operations Director Mike Hinkel and Chef Mo Jamison plated up their special recipe for the judges and the response was great! "We LOVED your chili!," they said.
You can try it for yourself:
The Maples 'Secret' Recipe Chili
3 lb. boneless beef chuck roast, cut into ½-inch cubes
1 lb. pork stew meat, cut into ½- inch cubes / or substitute with ground pork
1/2 c. dark chili powder, divided
4 Tbl. canola oil, divided
1 large onion, finely chopped
1 celery rib, finely chopped
1 tablespoon chopped green chilies
2 Tbl. grated dark chocolate
32 oz. can of dark kidney beans (not drained)
Sprinkle the beef and pork with half of the chili powder. In a Dutch oven or stockpot, brown meat in batches in 2 tablespoons oil; drain and set aside. In the same pan, sauté onion and celery in remaining oil until crisp-tender. Add the garlic, red & green peppers, and chilies and remaining chili powder; cook 1 minute longer.
Stir in the broth, beer, tomato sauce, chocolate, cumin, oregano, salt, mustard, cayenne, kidney beans and meat. Bring to a boil. Reduce heat; simmer, uncovered, for 1 to 2 hours, cover for an additional 30 minutes or until the meat is tender.