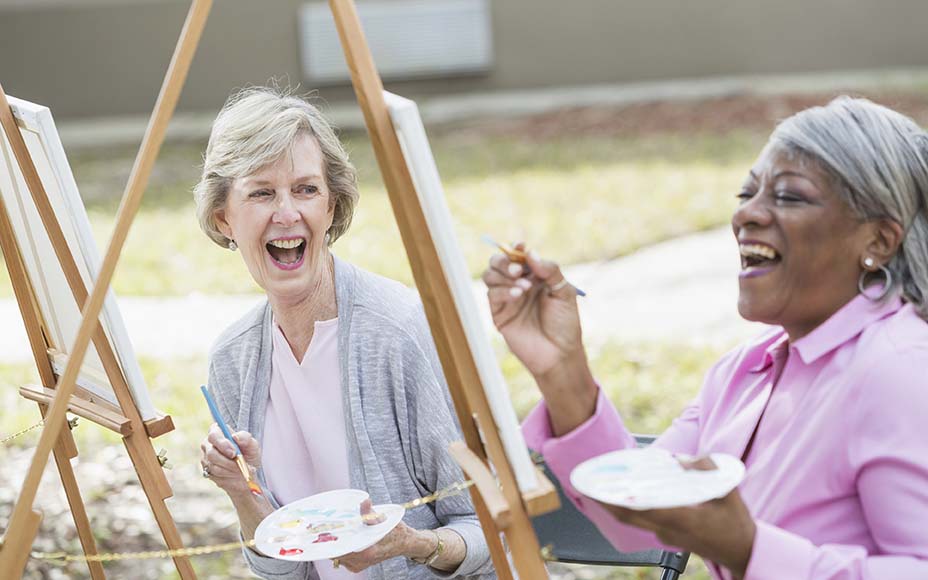 5 Ways Our MOSAIC Philosophy Encourages a Dynamic Lifestyle for Fully Engaged Living
Are you or a loved one searching for retirement living? What are you looking for in a retirement lifestyle? These days, many seniors are in search of retirement living that allows them to cultivate their own way while having access to personalized attention, comfort, fulfillment and the inspiration to live life their own way. They want relief from cookie-cutter communities, they want something to meet their tastes and needs. Simply put, they want more.
"At Artisan at Hudson, we are always in the pursuit of something more, from more opportunities and more convenience, to more choices and more wow," says Beth Ann Burns, Director of Community Relations at Artisan at Hudson, a retirement living community located in Hudson, Massachusetts. "Residents are looking for an artfully-crafted lifestyle where they can define the culture and influence the life they want to live, and with our MOSAIC philosophy, we can do just that."
What Is a MOSAIC Lifestyle?
Artisan at Hudson is on the leading edge of aging well, meaning that we empower residents to discover their passions, decide how they'd personally like to live, and to explore. This is exactly what our MOSAIC programming provides. MOSAIC programming is our dynamic lifestyle expression that provides the framework for how residents can live fully engaged and includes:
Movement. We believe that our bodies were designed for movement, so we provide an active lifestyle where you can experience the rewards. Whether you exercise, dance, try a new sport or enjoy a nice long walk, the impacts are reflected in body, mind and spirit.
Outreach. Sharing our time and talent with others provides an array of benefits and returns a dividend in the form of happiness and sense of purpose. Try volunteering, hosting classes or creating items like blankets to donate.
Social. Spending time and engaging with others promotes emotional and mental health and enhances longevity. Participate in programming, take trips to enjoy what you love with friends, host a get-together, the benefits reach everyone!
Arts. The visual and performing arts give us an outlet for creativity. Try a painting class, visit a museum or the theatre, enjoy live musical performances or attend a school musical.
Intellectual. Just because you are enjoying retirement living doesn't mean you should ever stop learning. Staying mentally active is a critical component of active aging. Challenge your mind by learning a new skill, taking up a new hobby or participating in lifelong education courses.
Curiosity. Those at Artisan at Hudson enjoy the freedom to explore each day, and this may be the most rewarding aspect of retirement – being able to follow your inquisitive mind down whichever path it leads.
Here, life is easy. Anything you desire is within your reach. You can enjoy an array of talks, lectures, live entertainment, classes, clubs and celebrations – easily schedule your days just as you prefer, then do it all over again the next day. All with unrivaled services and amenities, convenient rental approach, MOSAIC programming and complete freedom to do what matters most to you.
Discover more about luxury Retirement Living and how Artisan at Hudson can help you experience senior living perfected! Call (978) 212-9353 for information today!
Discover an Artfully Crafted Lifestyle
Located in Hudson, Massachusetts, Artisan at Hudson offers distinctive, rental senior living designed to give residents everything they want and need. With the convenience of transportation, multiple dining venues, a fitness center, underground parking and several supportive lifestyles on campus, combined with our empowering programs to enhance well-being and so much more, we can provide you with an artfully crafted retirement lifestyle.
Artisan at Hudson is a community where residents can create their own journey, with more opportunities, more convenience, more choices and even more wow, all in a beautiful, modern setting equipped with everything you need to live well. Think a variety of open floor plans, upgraded appliances and refined finishes along with carefree and worry-free living. It's all within your reach.
Call for information at (978) 212-9353 or visit our website.