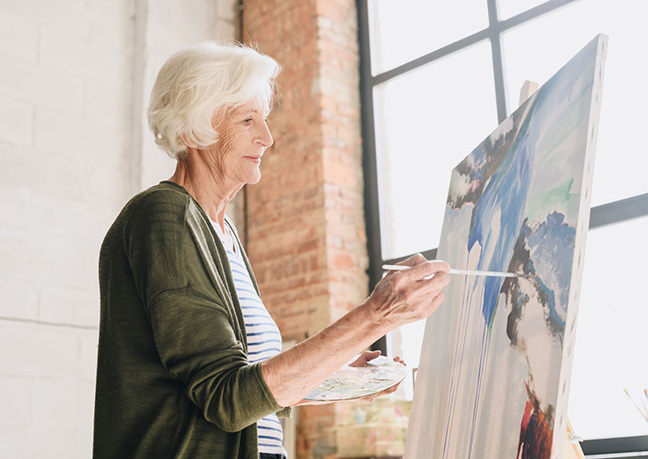 5 Ways Assisted Living Keeps Seniors Active and Independent
As seniors age, one of the things they desire most is to maintain their independence and remain active in an environment that makes this a priority. At Artisan at Hudson, we do. Each day, residents enjoy a lifestyle where they can do as they please, whenever they please.
"Every day our residents enjoy a range of programs and activities designed to help them live engaging, active and independent lives," says Sheri Mele, Director of Community Relations at Artisan at Hudson, a retirement living community located in Hudson, Massachusetts. "From social opportunities and access to lifelong learning to wellness programming and so much more, they can enjoy the best days of their life for years to come, without ever needing to worry about access to care or the hassles of house ownership."
How Assisted Living Keeps Seniors Active
Artisan at Hudson offers independent living, assisted living and Connections memory care.
Assisted living communities can keep seniors engaged, active and independent in a number of ways. Consider some of the ways residents can take advantage of assisted living to increase activity and be their best selves.
It encourages socialization. Seniors who live in assisted living can enjoy the company of other adults who have shared similar experiences and events. This helps them to not only bond with others, socialize and get out of their comfort zones, but it also helps them to remain active and independent while embracing each day.
They can continue to grow and enjoy everything life has to offer. When residents in assisted living have access to an array of programs and activities, they are more likely to remain active and independent. From programs they've always wanted to try to hobbies they've let go of but would love to pick back up, assisted living can inspire growth and an active lifestyle.
They can receive the care they desire, when they want it. As seniors age, they may begin to need more care. At Artisan at Hudson, they can receive the care they desire in the comfort of their own home. We can help them with whatever their needs may entail, from dressing and bathing to managing medication and more. We allow them to do as much as possible on their own and step in if and when we are asked and needed.
Floor plans meet their needs and wants. Residents can choose from a variety of apartment sizes and floor plans. They can take an active role in decorating it according to their style and taste. Have their friends over when they please, rest and rejuvenate and meet each day with excitement knowing all their desires are met!
They can have peace of mind knowing their needs can be met. No matter whether they need assisted living or memory care, we can provide the services they need while allowing them to focus on their health and wellness, enhancing their independence, enjoying their lifestyle and living the life they love!
Discover more about luxury retirement living and how Artisan at Hudson can help you experience senior living perfected! Call 978-212-9353 for information today!
Discover an Artfully Crafted Lifestyle
Located in Hudson, Massachusetts, Artisan at Hudson offers distinctive, rental senior living designed to give residents everything they want and need. With the convenience of transportation, multiple dining venues, a fitness center, underground climate-controlled parking and several supportive lifestyles on campus, combined with our empowering programs to enhance well-being and so much more, we can provide you with an artfully crafted retirement lifestyle.
Artisan at Hudson is a community where residents can create their own journey, with more opportunities, more convenience, more choices and even more wow, all in a beautiful, modern setting equipped with everything you need to live well. Think a variety of open floor plans, upgraded appliances and refined finishes along with carefree and worry-free living. It's all within your reach.
Call for information at 978-212-9353 or visit our website.