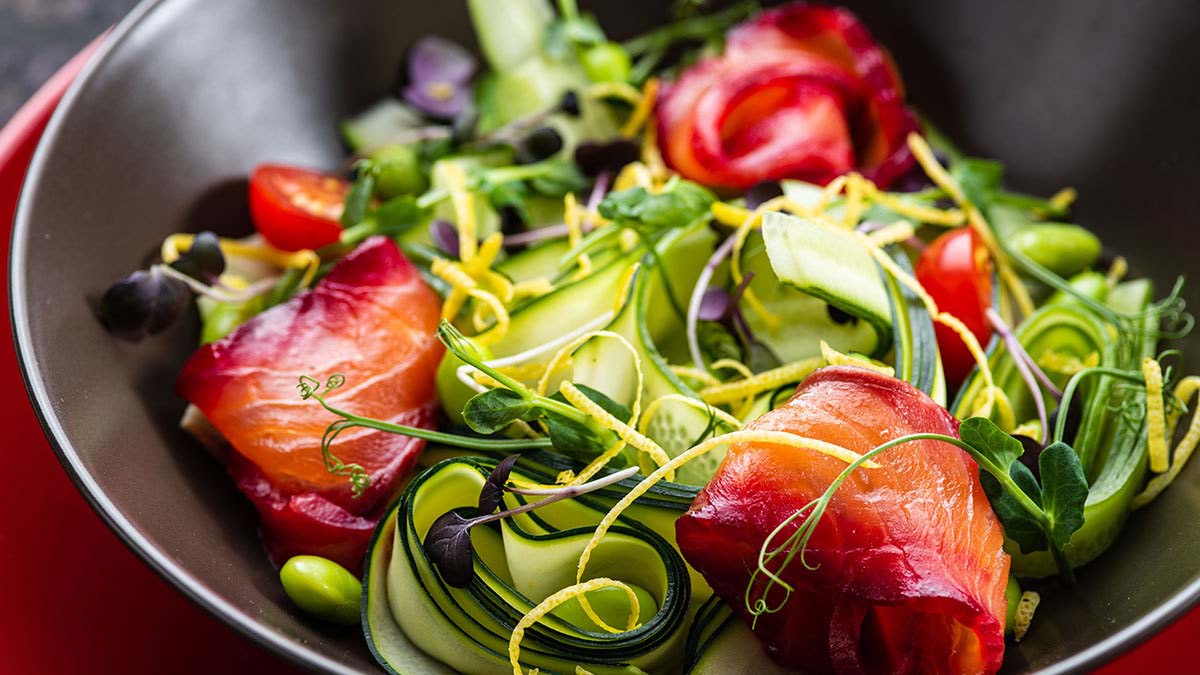 4 Ways the Nutritional Edge of Gourmet and Innovative Dining Promotes Optimal Wellness
Dining is an important part of each day, not just nutritionally, but socially as well. Although people have different preferences on what they eat and what they enjoy, and even what fuel their bodies need to keep them healthy, the one thing that remains is this: a proper diet is essential for optimal health and wellness.  
Ovation at Riverwalk's Director of Customer Experience Saiqua Ferdous says it's not enough to simply eat for wellness; in fact, older adults expect far more than that. "When enjoying a meal, they expect to be tailored to. At Ovation at Riverwalk, older adults enjoy a dining experience that is not only gourmet, but truly innovative. It's the experience they desire and more," says Saiqua.
"We keep up-to-date on the latest trends and even rival the Princeton area's finest dining establishments with our incredible menus, attention to detail and dedication to serving the latest in nutrition and culinary arts – leading to optimal wellness and an epicurean adventure that truly delights the body, mind and palate." 
4 Ways Gourmet and Innovative Dining Promotes Wellness
There are a number of big food trends that have come up in 2019, many of which are extremely health conscious and improve wellness. Consider some of the following:
1) The Rise of Vegan Options. More and more trends are pointing towards meat-free entrees and meals, instead opting for vegetables and fruits. According to an article by Harvard University, approximately six to eight million adults in the United States eat no meat, fish or poultry. About two million are vegan, meaning they consume no milk, cheese or eggs. This has multiple health benefits, including reducing the risks of chronic illnesses, heart disease, cancer and diabetes. However, if older adults don't want to become complete vegans, there are also varieties including lacto-ovo vegetarians (which eat eggs and dairy), ovo vegetarians (whose only animal products they eat are eggs, and partial vegetarians (who avoid meat but may eat fish).
2) Gluten- and Carb-Free Alternatives. Whether older adults have a stomach that just can't handle gluten or prefer to live a low-carb lifestyle, many trends are catering to this. From low-carb tortilla pizza, gluten-free pizza or even cauliflower options, low-carb seems to be the big craze. This could be in part thanks to the Keto diet, which is consuming a high amount of healthy fats and low carbs.
3) Use of Spices Instead of Salt. Sodium isn't always the best thing for the body. That is why many foods are starting to be seasoned with an array of spices. This not only provides some international flair and adventure but can greatly decrease your risk for heart disease.
4) Increase in Healthy Fats. From avocado oil, coconut oil, salmon and nuts, the use of healthy fats are on the rise. Also called monosaturated fats, consuming these have been shown to reduce the risk of heart disease, decrease inflammation and enhance weight loss. At Ovation at Riverwalk, we take these trends into consideration to create an experience that both caters to older adults and gives them the benefits they desire. Get a taste of it yourself! Call 609-389-9566for information today!
Uncover a New Era in Active Adult Living
Located within the Princeton area, Ovation at Riverwalk offers age-restricted living curated by you. As a rental community, active adults can enjoy a lifestyle of artful adventure free from the worries and stress of house ownership allowing them to focus on living the life they want. Ovation is a community supporting the desires of today's active adults: sophisticated living featuring stunning interior designs; bright, open apartments; grand community spaces; expansive outdoor living; innovative culinary experiences; and a catalog of interesting programming designed to promote successful aging. Simply put, Ovation is a place you can live the sophisticated, high-end resort lifestyle you want, with the freedom to create a life as individual as you are.
Call for information at 609-389-9566 or visit our website.