Independent Living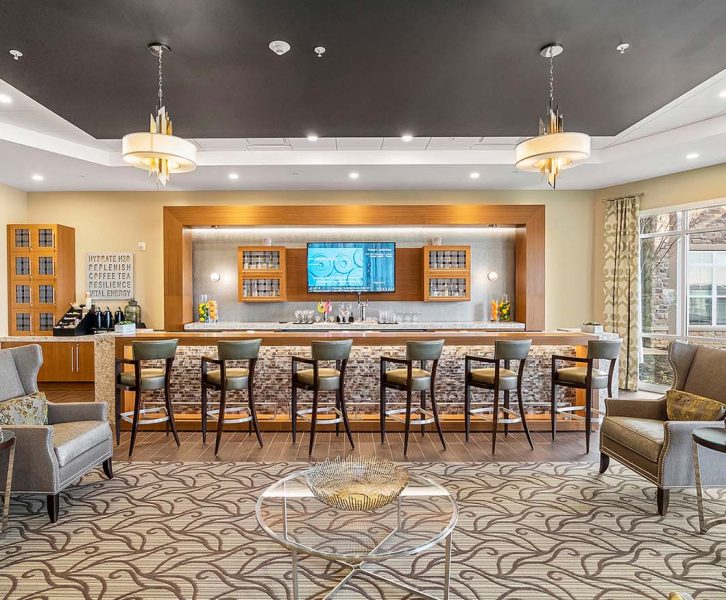 Sell the snowblower. Ditch the lawnmower. Here, the living is easy, and everything you want is within reach. Our unparalleled facilities, highly trained staff, well-appointed residences and housekeeping and maintenance are second to none. It's all designed to give you the freedom to pursue the active lifestyle you enjoy. We take care of the details while you do what matters most. That's living to the power of you.
This is where life is more like a resort than a retirement. It's where you'll have pride-of-place in a spacious rental apartment that's meticulously designed and well-appointed. And it's where you can assure your friends and family that you've moved on and moved into a life of fun, freedom and fabulousness!
Echo Lake celebrates your independence. We also applaud your proactive thinking as you choose a home environment that will accommodate your needs through every age and stage of life. Vitality is at the heart of our approach to independent living. It's life on your terms and a lifestyle focused on the continued growth of your mind, body and spirit.
Housekeeping, meal plans, maintenance services and laundry services are included based on what you want to enhance daily life. Everything you need is within reach. We take care of the details.
Feel safe knowing your home is well-protected — we offer 24/7 security for your residence and everywhere on campus.
Our MOSAIC lifestyle encourages exploration. Talks, lectures, live entertainment, classes, games, clubs and celebrations abound — it's your choice to schedule your days as you like.
Now you can focus on the important things in life without those tiresome chores like mowing, snow blowing or repairing leaky faucets.
Just like you, we take the word "active" very seriously. Our 25-acre campus connects to extensive walking trails and includes a putting green, gardening beds and a pickleball and basketball court.
At the leading edge of the "aging well" movement, Echo Lake empowers you to discover your passions and create an active way of life that's as individual as you are.
Ready to learn more about living to the power of you?