Personal Care
Because your needs are unique, your care should be too.
Yes, we assist you with whatever you need to get the most out of life — whether that's help managing medicines or providing physical therapy. But we never forget that this is your life. You should be able to enjoy it: hang out with friends, grab a cup of coffee at the bistro, shoot some pool or shoot the breeze. We think of it as personal care that helps you become more carefree.
Life doesn't stop because you need assistance. It can be enhanced because you've wisely sought support. And that's what we're here to give you: an around-the-clock, hospitality-focused caregiving team, overseen by a dedicated nurse.
You'll be supported by a compassionate group of caregivers. Every day, they seek to live out our mission to provide the highest standard of personalized care, to get to know you and honor your identity.
The supportive personal care we offer is designed to keep you in charge of how you want to live. With that in mind, we:
Anticipate your needs and know your preferences, interests and family
Develop a tailored support plan for each resident
Actively and regularly communicate with the resident's family
Continually reassess individual needs – when changes occur, we work through them to make sure that residents' care needs are being met.
Do frequent safety checks to make sure residents are comfortable and secure
Make every effort to help residents maintain and improve their highest possible level of independence
Chestnut Ridge personal care provides a full spectrum of services, from help with the activities of daily living to comprehensive care.
Affordable monthly rates
Daily prompting and staff support
Consortium of healthcare partners includes doctors, pharmacy, lab services and podiatrists
Medication management
Memory-building activities
Memory-specific care
Occupational and physical therapy
Ongoing safety and security monitoring
Physical exercise and engaging activities
Coordinated access to psychiatric support and treatment
Recreation and outings
Socialization and friendship
Not sure what living option is right for you?
Learn more about senior living and find out which options are the best fit for you or your family with this quick 4-5 minute survey.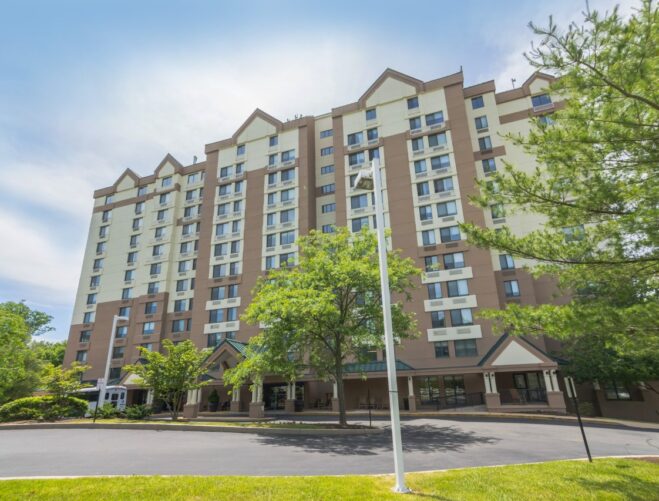 Chestnut Ridge Wallingford
2700 Chestnut Pkwy
Wallingford, PA 19086
610-447-0710
Get Directions