Independent Living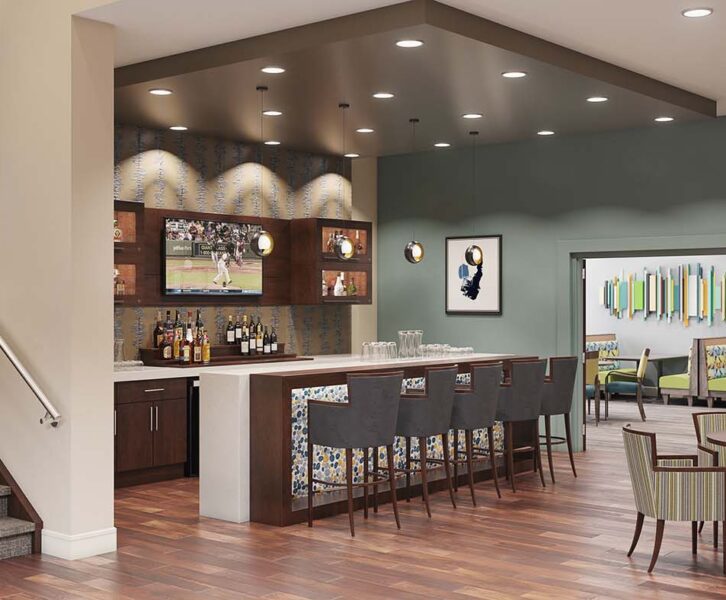 Reimagined
Having just opened in November 2020, Artisan at Hudson was created with you in mind. Made for those who want more than just a new home, it's perfect for folks who are seeking a fulfilling, active and truly independent lifestyle. In our community, you can rest assured that you'll have the freedom to live more and worry less.
Imagine the Possibilities
Imagine if all your time was reserved for the things you want to do — if regular home maintenance and chores were a thing of the past. No more endless raking in Fall, shoveling heavy snow in Winter or dealing with a repairman when the AC unit breaks in the heat of Summer. We have a dedicated, on-site 24/7 maintenance team, and friendly housekeepers to help you with life's hassles, so you can focus on the things that matter most, like spending time with loved ones.
Empowering a Worry-Free Lifestyle
Here at Artisan at Hudson, our main goal is to help you enjoy every single moment. If your health needs change, there's no need to worry about what comes next, or scheduling endless doctor's appointments. Our community offers assisted living and memory care, just in case you might need it in the future.
Is Independent Living Right for You?
Time and time again, residents mention how they wish they'd moved in sooner — to feel secure no matter what the future holds, while building close friendships within a supportive, active community.
That's what sets us apart from other communities: No matter what stage of life, your needs will always be prioritized, empowering you to enjoy each and every moment. Whether that means chatting with friends at game night, learning a new art form, or challenging yourself in an exercise class, Artisan at Hudson is the perfect place to grow independently while having peace of mind.
If you're someone who wants to set themself up for successful aging, but aren't currently wanting (or needing) to sacrifice autonomy, Independent Living is likely the best option for you.
See for Yourself…
With so many fantastic perks and amenities of our independent-living community — on-site maintenance, weekly housekeeping, health, peace of mind and an active community lifestyle, you might be wondering: Is this within reach for me? Absolutely. Because Artisan at Hudson is a monthly rental community, there are no large entrance fees or complicated contracts to worry about. For one affordable monthly fee, residents enjoy a hospitality-focused, service-rich, extraordinary lifestyle custom-designed just for them. To see firsthand how independent living at Hudson might be your best fit, schedule a tour today.